Smile
May 28, 2010
I remember the smiles,
They resonate in faded pictures.
Each pixel captures a special candid moment.
The last day of school,
Everything is full of life.
We smile and capture pictures with digital cameras.
We sign Yearbooks and
I hate my picture.
The life we once had,
Was sucked out of us,
The last Spanish class of the day,
He taught us about verbs.
We studied for the exam next week.
His voice still echoes in my hollow head.
The people behind me answer every question
And I count down in seconds
Until the bell rings
Until I am free,
Until the summer starts
Until I can go home
Sleep,
Eat,
Text,
Call,
Facebook,
So I listen to the ticking of the clock.
The students answering
Are only humming in my ear.
We loathed this class.
His monotone voice threatens to fail,
Me,
The students,
My friends,
My enemies
He came late to class every day.
Still, he was in charge.
He was never without a tie.
His purple striped tie graces his neck today.
His head shines from the lack of hair.
We assume that he is single.
We assume he was never married.
We assume that is why he is so mean.
We assume that is why he threatens to fail us in Spanish words we do not understand.
We do not understand the backwards language he speaks in.
He does not understand we need a break.
We do not understand his method of teaching.
He does not our method of learning.
We think he was in the military.
He thinks we are lazy.
We have theories about him:
Theory 1:
He was in the military but killed a guy because he looked at him funny.
Theory 2:
He murdered the old Spanish teacher to get a job to torture the freshmen.
Theory 3:
He is the reincarnation of Jack the Ripper.
He finally sits down and
I bite my nails
And he hands out papers.
One by one he calls our last names
With anger he talks to us about our grades
He yells at us about the exams
And the bell rings to drown out his voice
To signify the end of the day
To set us free.
We all stood up and collected our books.
He still sat at his desk talking to us about exams.
Once at the door someone whispered.
We all turned and
He still talked and
We ran towards him and
We hugged him.
I stayed out
I took the pictures.
I remember the smiles,
They resonate in faded pictures,
Every picture captures the special candid moment
I remember the smiles
Even the smile of the one who never smiled.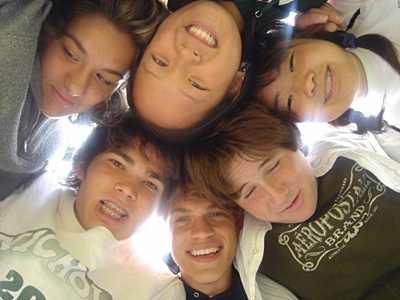 © Zhihan C., Hudson, OH