Valentines Day
May 23, 2010
Is it too much to want
to be loved on Valentines Day?
Is it desperate to not care
By whom?
All around me I have friends who are happier than they've ever been -
Am I a terrible person for wanting to snatch it away
so they'd remember how it is to be alone?
Here in the desolate darkness,
The flashes of genuine bliss reflected on their faces
Shine and taunt me.
I try to push your from my mind
So my spirits aren't' wrenched down
By the way you let me down.
Words weren't used (or needed)
To reveal your (lack of) feelings for me -
Your averted gaze said it all.

You're not doing me any favors
By acting like you care how I feel.
Forced smiles that freeze my hopeful heart
Leave me speechless and depressed when I realize their insincerity.
I'm not your dog -
Stop throwing me bones.

Fantasies have long since
Stopped flowing through my mind,
And are replaced with questions of why.
Why aren't I good enough?
Why doesn't anyone care?
I try to be angry with you
For not returning the feelings I'm assaulted with -
But then you say something to make me laugh
And all that resentment fades away.

Why do I always fall head-first
For the guys who are only good
For making me cry?
In my head I know
Theres no way you feel the same way,
But my heart won't take no for an answer.
I'm vying for your attention,
Hating myself all the while.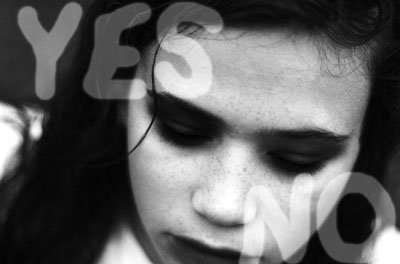 © Sandy H., Woodbridge, CT