Black Chameleon Mask
May 8, 2010
"I am a man who wears a mask
black as a shadow in the night.
It hides colors that swirl beneath,
blends me in with the crowd.
A cloak to what really is,
Veiling reality unseen…"

Glide unto the floor, keep the mask on straight
don't let your true face be seen beneath.
Fall into the steps
fade into the crowd
keep your eyes down
and maybe they won't notice
that sometimes your steps falter
your dance keeps drifting off.
But it's hard to keep balanced
When blinded by a mask.
Maybe let a few see under……

Getting nervous now,
did they peek?
Did that moment of weakness
reveal to all what lies beneath
that dark chameleon mask
which shrouds all but your eyes
do they know that their norm
is but a lie you wear to hide
hide that which makes you you,
but when removed throws
rainbows in their sight!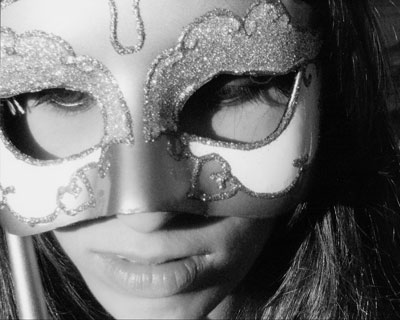 © Becca W., Greenbrae, CA