I Remember
MAG
April 6, 2010
There's nothing left to remember anymore.
I've replayed every moment 'til the tapes of my mind burned out, I've sucked the nuances dry. Nothing left to contemplate. Except …

The way your eyes dripped black with kerosene and rage. Brokeneness seeped from your pores, an essential part of you. Sorrow wedded itself to your every movement, a carefully practiced routine.
I remember the small notches of your spine, your wide nail beds. I remember your shallow ribcage and bleeding heart.
I used to memorize the contours of your face, knowing subconciously I'd need the memory someday, but now Someday has arrived and I don't know how to remember.
I want to forget every detail of you, but at the same time keep every moment forever. Put memory safe in a box. Not to open, just to keep on a shelf, for the time when I may forget what it was like to look into your eyes. The photo album you're too afraid to look in, afraid to see how you've changed, or how you've stayed static. Pandora's box. The only thing that would remain inside if I opened it is the hope I can never quite grasp again.
The words elude me. I don't want to write anymore, I don't want to think. I don't want to think about things that might lead to thinking about love, or you, or anything that happened before.
I'm tired of loving; there's too much risk. I love too much. I love … I don't know. But there must be some fatal flaw, because the end result always seems the same. Here I am, for the umpteenth time, pressed against the glass wall of reality. My heart on one side, my head on the other. Never the two shall meet.
But I remember, remember, remember …
still longing to forget.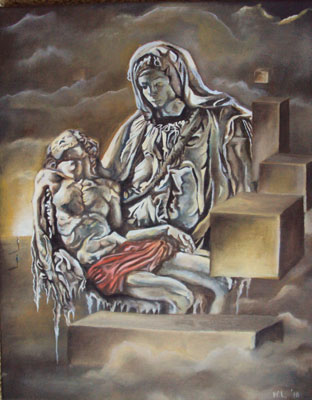 © Winston L., Dallas, TX