Some Side North Of The Mountain
April 1, 2010
Some will give up their life's ambitions,
Some will give up their hopes and dreams.
some will give up their hopes of life,
For a chance to meet their hopes and dreams.
Some will succumb to their struggles,
And be laid to rest in their graves.
some will lay rest to all their struggles,
And come to visit them in their graves.
Some will decide to take charge,
And receive anything they ask for.
Some will let their fear take charge,
And give it anything it asks for.
Some will create their own destinies,
And make what they want to happen happen.
Some will lose sight of their destinies,
And let whatever happens happen.
Some will dwell among their obstacles,
And let them tower up like a mountain.
Some will tower up over their obstacles,
And come to reside just north of the mountain.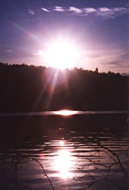 © Laurie T., Hopkinton, MA