All She Has
March 28, 2010
She runs.
Runs.
Draws about running.
Dreams about running.
Dresses in those sweats from past cross country seasons,
T-Shirts from track meets of last winter.
She goes to practice even when she's injured,
Takes the bus to invitationals she's not invited to.
Loyal to the team,
Because running is what she has.
She doesn't sing.
Doesn't play an instrument,
Doesn't have a religion, a hobby, something else.
School is hard for her.
She has ADD, and sometimes she can't focus.
She can only concentrate on books
When they're about running.
She wrote a poem once,
About the pain as her feet touch the ground.
She loves the biting wind,
Screwing in the track spikes,
The cheer of the crowd as she finishes,
No matter what place she comes in.
I like these things too.
Most runners do.
But not the way she does.
When her knee is out,
She'll sit by the cold track,
Smiling as the snow begins to fall.
Watching us, out of break and red cheeked,
Round the corners and sprint the straights.
She loves this stuff.
It's hard for her to concentrate on school, on talking.
But she can when she runs.
Rich, she could have any clothes she wants.
She could dress to fit in.
Yet she only asks for running gear,
Shoes, shorts, spandex, her favorite bag and black jacket.
She runs her fastest every day.
Sometimes she pushes herself too hard,
And gets hurt.
But she has to.
It's all she has.
Lonely, it's all she asks for.
The feeling of cresting a hill.
Spikes in the inches-deep mud,
Or on the hard rubber track.
The muscle pains that feel so good,
The companionship of the team.
Pushing herself past her limits.
The wind in her loose hair.
This is what humans were meant to do.
This is all she has.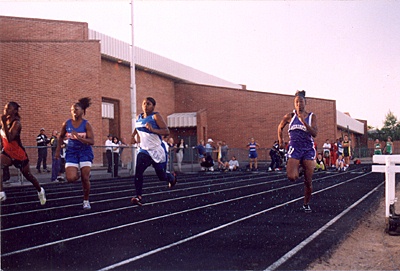 © Tiffany D., Philadelphia, PA