Can You See It?
February 22, 2010
Can you see it, Mommy?
There!
No, you're looking the wrong way.
Yes!

Oh, it's beautiful.
Remember we used to go there.
And sit on the boulder
with our feet in the river.

Can we go there again Mommy?
You can still see it, right?
I love it there.

Remember our picnics?
And you dropped your apple?
And i remember trying to get it,
but you got sad because i fell.

Why do you cry a lot now?
I dont remember getting out of the water,
just you crying.

Couldn't you see your apple swimming away?
I needed to get it
for you.
Just for you.

Mommy,
why are you crying right now?
Let's have another picnic!
Mommy?

Why'd you walk away?
Mommy, please stop crying,
and we can have a picnic.
Please, Mommy.
Please.


And so I sat on the boulder,
alone,
with my feet in the water,
watching an apple swim downstream.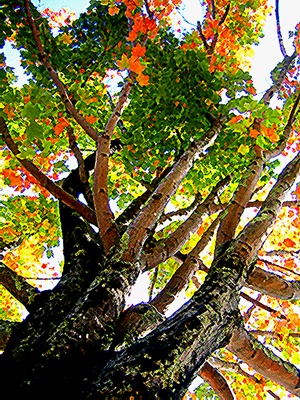 © Kathryn R., Shelby, NC