i miss you
MAG
February 16, 2010
You know,
it's crazy how much I
miss you.
You haven't even been gone a
year yet.
They say closure will come from
speaking these words.
And so I do,
brushing the ruby and gold leaves from your grave,
kneeling in the platinum grass that leaves wet marks
on the knees of my jeans.
I have yet to see such a beautiful day since you left.
The cloudy sky is like an opal, the dew is made of diamonds.
Hi. It's been a while.
I brought you flowers, the kind that
make the butterflies dance in the sunlight.
You'll laugh at me for this, but
I've taken to gardening.
These flowers came from your garden, the one you planted
religiously every year. I did it myself this year.
Rustle.
There must be birds here, because I keep hearing the rustling of wings.
You always liked birds; I never did.
I remembered your birthday, you know.
I went to your favorite spot on the beach and read your favorite book,
and did you know that the pages still smell of your perfume.
I always loved your perfume, you smelled like roses and apples and cider.
I loved everything about you, you know.
You knew life was full of tiny things of beauty, and you showed them to me.
Like the sunlight bouncing off of a white tablecloth outdoors at a café.
Like the pretty patterns of sparkly veins in granite.
I can see the sparkles in it now, on your headstone.
Your name lights up as the sun pushes past the
clouds and the sky turns azure.
I miss you.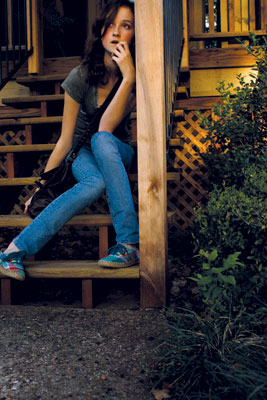 © Alissa H., Double Oak, TX