Dreams
January 29, 2010
Tree line touches the sky.
Sun kissing the white and blues.
Hills rolling, winds blowing.
Not sure what natures showing.
All around sounds of life,
so why should I feel dead inside?
As a seed falls away from the tree,
I long to go, grow and break free.
Out of my shell, through all the dirt.
Spread out, be tall and capture the light.
Be Sturdy, the best, full of might:
To large to cut down, just right for shade.
Leafs bright, flower with age,
to live life proud,
to live life long,
to provide plenty,
give life to many.
Oh to be a dreaming tree,
holding dreams for all to see.
To have my own,
To hope to be.
Reap what I sow,
Take from the seed,
Grow to the man inside of me.
Become tall and strong.
For when the winter leaves are dead and gone,
my seeds will move on,
to effect the world as I have done.
To be a proud father to his son.
Oh to be a dreaming tree,
giving hope to all who see.
I will live,
I'll be free,
I'll keep the dream inside of me.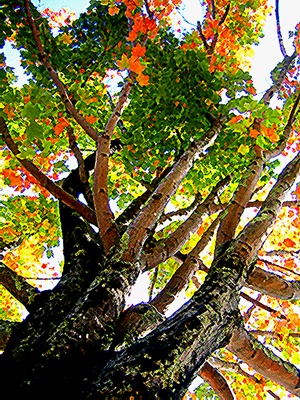 © Kathryn R., Shelby, NC