Can You...?
January 18, 2010
the sun is shining?
can you see it?
can you feel it?
i can not,
my life is chaos,
a storm not to be underestimated.
The rain begins to pour,
tears from the orbs that are my soul,
the pain burns bright in my eyes.
thunder rumbles across te skies,
my body is shaking.
can you see it?
can you feel it?
I can not,
my life is ending.
standing on the cliff's edge,
the wind blows weakly,
i can scarcely breathe.
Day turns suddenly to night,
there is no moon,
i close my eyes.
can you see it?
can you feel it?
Lightning cracks,
the planet engulfed in flames,
my heart is shattered.
the rain lets up,
my tears fall silently now.
the clouds break,
the sun leaks out false happiness,
in the distance,
coming closer...
the storm waits.
" I love you."
Lightning cracks,
thunder rumbles.
Rain pours,
and my heart shatters.
Again...
Please...let me go.
give me peace with my last breath,
I love YOU.
The storm dies,
he's left with the corpse of the one he loved.
Now he's got a storm of his own,
and the cycle repeats itself.

P.S. I'd give up forever to hold you.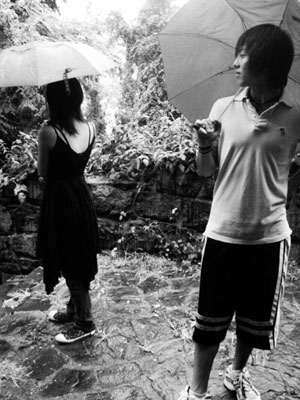 © Yuki M., Fort Lee, NJ