Fighting With Fate
January 8, 2010
I stopped running, bracing myself against my knees. Breathing deeply. My mind was still tacked firmly on my pursuer. With my arm I wiped away the sweat that was dripping down my forehead. I began walking once again through the never ending maze. Ready to break into a faster pace, knowing that lurking around the corner that it was there watching my every move. Wrong. Popping out in front of me there it was.

Now I lie in a hospital bed. It's given me time to think even with it watching me from my bedside. I've concluded to ignore it. In fact, I'll fight back. I'll fight back with all my might, and though in the end I now I will lose the last battle. I only look ahead, to future quarrels; I know I can win them.

Now, fully well, I fight sword to sword with my opponent. Driving it toward the cliff. Sure I know it won't fall, it can't but why not challenge it. I understand that in the end I'll be the one to fall but right now I won't give it a second thought. There's too much to do, only so much time. The persistent people always win. So that's who I'll be. As for my rival? Death. But I don't run anymore.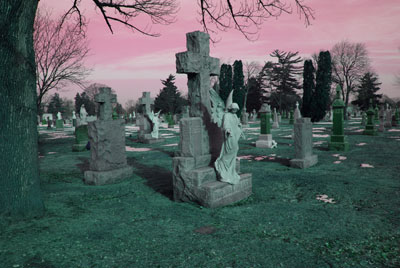 © Lauren M., Avondale, AZ