Hattie
December 24, 2009
The paint peels from behind the radiator
that clicks and clangs, letting out puffs of steam
like skywriters in tiny aircrafts,
professing proposals and publicity in wispy vapor trails.
We sit in the stairwell at the market like indie hipsters,
buying locally grown produce for your Thanksgiving meal.
I carry the bag of fresh pomegranates,
red, fleshy, beating hearts,
chalked full of seeds and secrets,
sold two for three dollars at Stall 23.
Splitting a falafel,
tahini drips down my hand and onto my worn leather of my Sperry Topsiders.
You pop a grape into your mouth,
and make your Thursday smile,
even though it's only Wednesday afternoon.

You listen politely, just as you always do,
as I discourse the details of the latest story I've written,
the latest boy to have broken my heart,
the latest twists and turns of my favorite tv show,
and the bouts of my latest case of hypochondria.
You take such good care of me, my Mother Hen.
My needs are at the top of your list,
next to poultry seasoning and meeting college application deadlines.
You give me assignments in the passenger seat of your Scion
on cruel winter nights.
Acts and impulses that require me to mature.
We fight the depression spells that put you
out of commission like a broken washing machine with an "Out of Order" sign
scrawled in red Magic Marker and held to the surface with Scotch tape.
I want to keep you occupied,
I want to be your student.
I want to be ready to leave home and start anew and be okay without you to
tell me to be confident while talking to boys
and let me borrow that black flapper dress that makes me feel more glamourous than
Zelda Fitzgerald herself.

To me,
you are the flashing yellow traffic lights at 11:05,
the seal-shaped pb&j sandwiches in a picnic lunch,
the weather-worn moccasins with the backs stomped down,
the religiously-updated Flickr photostream,
the pulsing freedom of the Agora Ballroom,
the tears shed at Edgewater Park.
The reason I am the person I am today.
So starting now, here, in the stairwell of the market,
I want to listen. I want you to talk.
I want to nod and understand and empathize.
I want to create the joy you've created for me.
Pay it forward.
But I can't just create this life alone,
you'll have to help me.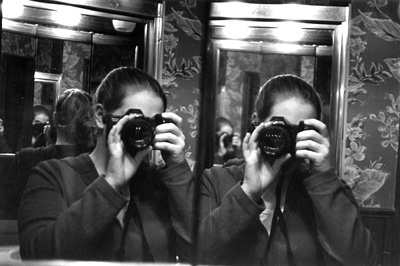 © Natalie D., Marblehead, MA