Sister of Mine
December 31, 2009
When we were young,
You were my one and only
Best friend and I knew nothing more.
We were inseparable,
Joined at the hip,
And I cherished you like no other,
You were the best sister I could ask for,
And I loved you with all my heart.
You were older, too.
When your friends were over you'd act cool
And tell me to stop pestering,
But later we'd steal cookies from the pantry
When Dad wasn't looking.
You sometimes promised me things I knew
You could never get,
Like New York City and Mount Everest.
You even made me believe
That you imaginary friend was real,
That was before I found out you were only faking.
And as we grew,
Our bond seemed to diminish.
You got your license and you were always with your boyfriend,
Your new best friend.
You two ignored me,
Leaving the house the minute he arrived.
You and I fought extra, too.
We didn't see eye to eye any more.
It was like you were a stranger.
One day we fought so bad,
You left the house in tears.
I watched you fly out of the drive way
In the family expedition,
Rage in your eyes.
And I waited by the window,
Waiting to apologize.
Wanting to tell you how sorry I was.
When a car finally came down the driveway,
It wasn't yours.
It was a police car.
He came to the door,
Told us you had died
In a fatal car crash.
He said he was sorry.
But his words cut through me like knives.
I didn't want to hear him apologize.
What I wanted was you,
My true best friend.
Life seemed to laze by,
Slow as a slug.
Didn't everyone realize the guilt I felt?
Didn't they know all I wanted
Was to tell you I'm sorry
And that I loved you.
I wanted to make up for those years we had spent
Away from each other,
Angry all the time.
Let you know you would always be my best friend.
I miss you,
Sister of mine,
I miss you.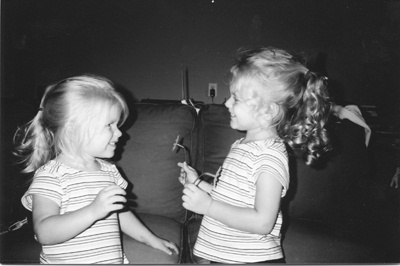 © Elizabeth S., Pompton Plains, NJ