The Things You Do to Me...
December 18, 2009
When old days seem like a garden of Eden
And nothing can save me not even
the caring smile of the one I love.
When talking gives way to silence
and I just sulk at another defiance
of a shelter from all the words
that sting like third degree burns.
When the pain and suffering doesn't match up to the suffering and pain
I thrash about in the water, trying in vain
to keep my head above but I'm going under.
And even then I'm still startled by the sound of the thunder.

When I came to, you spoon-fed the happiness to my quivering lips with what you had.
You took a needle and sucked out all the bad.
All the hurt inside me I'd kept bottled up.
You set it on the table, bubbling in the cup.
I know you would have drank it all for me.
Poisoned yourself just for my sake;
but there was no need.
For with a wink of your eye, and the flash of your smile,
the cup was empty, not a drop of hate left. It was gone for miles and miles.
When you left, though, it came back so fast.
It slipped through your teeth and flew down my throat in a ghastly mist.
But since you're back now, the hurt's gone away.
You scared off the hate, and now it's gone; and we'll smile again today.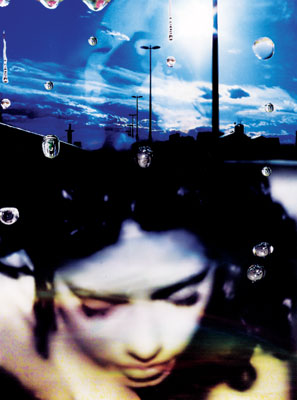 © Becky F., Sacramento, CA