The Final Sacfrifice
December 9, 2009
he looks down and smiles.
there they are.
one baby, one toddler, one wife.
and short one dad.
one family, forever separated
by the call of war.
he left her to fight for them,
to ensure they were safe.
he left to show
what bravery americans hold
in their hearts and souls.
she missed him
while he protected her.
so did the children,
hopefully too young to remember
his absence in the future.
it was a long winter
without him there.
a long spring as well.
and they prayed for him,
in church,
at meals,
and before they closed their eyes to sleep.
they remembered him,
and gave the protective shield
of a prayer.
he felt their love and comfort.
maybe that's what helped him through
all the pain and grief of war.
and she would never feel
such pain as he felt,
and he prefers it that way.
that's why he fought.
to make her safe.
to make his family safe.
to make us all safe.
to make you safe.
that's why he fought
that's why he died
the final sacrifice,
giving up the gift of life.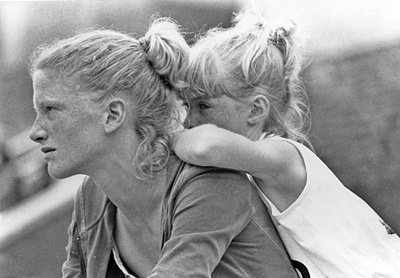 © Felicia F, Marlow, OK