Stars
November 13, 2009
On the sixth night, we drank to the kings.
We danced upon raindrops and kissed the sky.
The distance between us was no more
and we sang to the earth a song it remembered.
The land and the sea were one
and a hundred tiny fireflies set sail for an island of thought
perched in the back of your mind, waiting.
You were never one to stoop to my level,
and I was never one to lower my standards.
It was not something that should have been,
or could have been,
or ever will be again,
but it was, in all honesty,
real.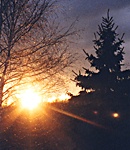 © Christy S., Germantown, NY