Laos Poem
October 29, 2009
Memories dance
Thoughts sing
Questions appear
The people I have depicted in my vision
The toil I have gone through
They are happy with nothing
Yet blinding themselves to the world beyond
They seem to look at us like
We are wonders
With our hair set straight
And our laughter filling the street
The foreign tongue of Lao
"Sabadi"
"Kubchai"
Is our language just as foreign?
Smells change
With the wind
Feelings of home drift in my thoughts
I will never take them for granted
Neither food
Nor water
Nor showers
Nor bathrooms
Ever again.
Hearing the beat of drums
The sound of a different world
I never use to pay attention
To the different conversations
I never use to see
The different colors
In another persons eyes
I never use to think
Where my clothes came from
But now I have seen
Now I'm paying attention
And this is what life
Truly is
Without the blindfold of luxury
Or the soft upbeat of sugarcoated words.
The cleanliness is gone
Leaving the crude minimum
Now you answer this
How is life different
When you have seen
And paid attention.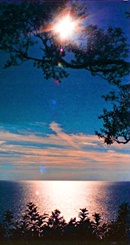 © Crystal B., Gresham, WI