Trapped within the universe
September 29, 2009
I wish we could be in
the impossible
i wish the unreal beauty of the universe,
was truly capable
in secrecy
for us
and us alone
flying
floating
blues and lavendars
diamonds of the sky
billions of them
just for me
just for you
and deep blue ocean
far beneath the surface
cool
cold
but warm together
I wish
it was
a possibility
but I know
its not
it can't be
the hardest part
is that I can't explain it
to you
to anyone
but myself
why I cry for this impossibility.
when did living in another's love become possible for me?
why is it do painful?
why am I scared?
I don't understand.....
I just want to be free
free in a random field
at a beach where no one knows me
in a town where i'm less noticed
than I am now
in a cold winter New York
big, bright advertisements on buildings
cold noses
and mittens
hot choclate
I wish
I could run away
without knowing what happens next
without caring
but i can't
my conciense won't let me
I am trapped
forever feeling trapped
trapped within life itself
insanity is what I call it
trapped here at home
trapped there at school
trapped here in responisibilty
even after 18
i'll be here
forever trapped
forever.....
one thing keeps me content...
this thing
is power within tiself,
it knows it oo. but it's insanely great.
it's love
and to experience it,
even once,
I am
forever- eternally even-
grateful.
I am.
honest.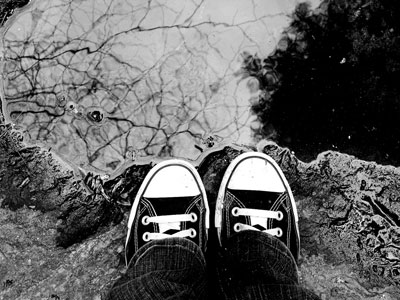 © Michelle B., Blairsville, GA