Just Go
September 15, 2009
The emotions are seeping back in again.

They've been locked up like a serial killer for a long while now.

I tried to banish them,

To exorcise the feral waves of
pain,

But they're back.

And they're burning acid on my cheek.
There is darkness in the corner.

Screams echoing on the moon.

Light is being sliced by weeping willows.

They are still the pounding drums of angst,

And teenage wars.

They are throwing away my chances of the impending future of which I always dream.

Somehow things are still there,

And they won't go away.

Go away go away go away,

Leave me be.

I don't want you here, jutting a sword into my insides

And then you twist it and turn it,

Purging me of any form of a smile.

This isn't the way I want to live my life.

I don't want you in it,

Corrupting any chance of the happiness I want to find and grab and squeeze until there's no air left inside its phantom form.

Please

Please

Please

Go

Go

Go

Now.

Leave behind no traces of evidence.

Just go.

Don't come back.

The friendship we once had has burned up in the flames of the scarred hallways.

Where the harsh cruel and callous words followed me like ghosts.

You chose wrong.

Sorry the prize isn't yours.

I am a big, fat, yellow-gold trophy that you will never win.

I was always there, always broadcasting.

You just never tuned in to the right station.

You just had to choose the station of sex, drugs, and barrenness.

Because she's just so much more fun, isn't she?

Of course, fun in the end will always mean crying and cutting till the day hesitantly breaks.

I wish I could still help you.

But your level is something I was never taught to even realize existed.

Things are different.

I've found myself, a different
soul always charring inside another.

Go.

Your world doesn't mingle with mine anymore.

It shouldn't have to begin with.

You stood by,

Like a baby vulture not hungry enough to pick from the dead.

I was picked on alive to the point of where my tears met the shining light of sunrise.

Her whispers never touched your ears I suppose.

She's smart.

But that won't help her or you where you're both going.

The path has been too rocky,

The pointed jags too sharp,

And I'm done with people like you.

I just wish I could have seen this all earlier.

Before you hurt me so.

Before you abandoned me.

Before everything I ever knew just fell apart.

The world still spins.

And the pen will always still move.

I only hope that you fall off the face of the earth.

The anger is simmering like a kettle in a blue fire.

Just go.

We're done by my standards.

Just go.

After all that I did for you, how could you let it die?

Just go.

You chose sex over innocent smiles.

Just go.

You picked the girl who won't be there for you in the end.

You know what?

You picked wrong.

Just.

Go.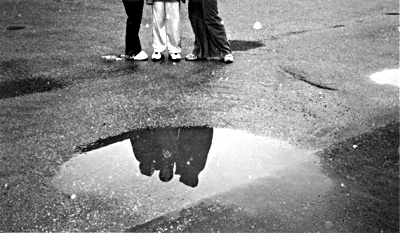 © Gary C., Pequannock, NJ