The Beast of War
March 7, 2022
Crippled wings are trying to beat,
As hands try to tear them off,
Because when the bird can't fly,
Then it will never leave.

Crimson red fills the rivers,
As dust clogs our pores,
The sky releases yellow and red rain,
With freedom ripped from under foot.

The ground shakes of the thousand cries of the ignored,
The desperate are given shovels instead of rope,
As they fall,
Fall down into the unforgiving pit.

Greedy visions lay upon more than one nation,
As friends turn their faces for they are comfortable now,
Oh the injustices of the ignorant!
They do not know what or when to care!

I guess the childless and parentless are not reason enough,
Perhaps families living in the smoldering heap,
Of memories and dreams broken,
Cannot awaken sympathy in those who do not know.

Maybe we are so used to pain,
We say, "Chin up, it'll be over soon.
Just pick back up and move on."
But one cannot lift their heads when crushed by fear,
One cannot move on when the killer is above, to the side, and below.

Are we so used to this ravage beast,
That we do not question who and what is its meat?
Are we so blind that we do see it creeping to devour us too?
A beast that flies does not stay in one land.

So sing your song of meaningless words at the top of your lungs,
But being louder does not change that it means nothing,
Wag your fingers of disapproval,
But that never stopped a toddler from coloring red on the walls.

Blindfold your eyes and stuff up your ears,
If you already refuse to see, to hear and feel,
What good are you to me?
To them?

This fire rain will continue to pour,
And no umbrella made from the empty promises to punish the enemy,
Even this thin fabric made from the words, "you were naughty, here is a time out",
Will stop the innocent from being burned.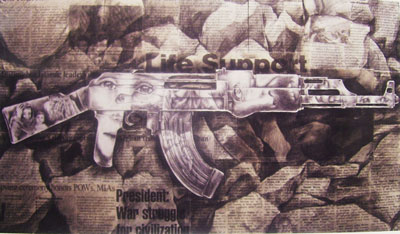 © Claire V., Lubbock, TX