she and i
February 4, 2022
she and i are not the same.
yet she lives within my head
she's the little voice inside my head that
tells me what i'm capable of and
what i'll fail at.
she's the best at "what if" questions
and knows all the right ways to get under my
skin.
i don't remember a time when we've ever gotten along, for it's
always been back and forth statements
and harsh words between us.
i'm told to love myself and everything that's a part of me, but
how can i do that when the loudest voice
speaking their disapproval of me
is an alteration of my own?
she and i are not the same.
we do not share the same thoughts
and worries.
i like who i am without her, but i'm still learning who that is because
she's been talking to me for so long.
she worries about everything from
school shooters
to car accidents
to having to speak in front of a class.
all i worry about is
her haunting me.
she pipes down when i'm on my meds,
but my dosage is still too low,
i've been climbing the milligram scale quickly,
but it still isn't enough.
she makes me lose my
spark,
ambition,
determination,
and courage.
she's the reason behind my self-deprecating behaviors, thoughts, and feelings
all because i lack serotonin.
i know it gets better and that
i'll be okay,
but that doesn't take away the feelings
of hopelessness or
"i don't know how much longer i can take this"
she's like my alternate ego,
my arch nemisis,
my worst energy,
my joker to my batman.
she whispers things to me late at night,
and often throughout the day too,
and there's not one place i can turn
to escape from her relentless bullying.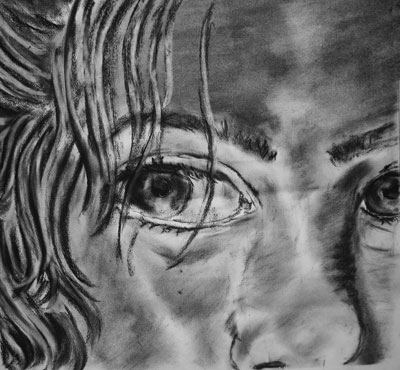 © Brooke W., Weston, MA