Ultimatums
February 2, 2019
My girlfriend and I have this thing about ultimatums.
Like, you know some couples have a special song,
Or a favorite movie, or a routine of scrubbing their reflections off the windows every Saturday,
Or a certain way that one of them introduces the other's jaw to their fist?
Yeah.
We don't have that.
No, instead we have a melody of disagreement remixed with a symphony of compromising,
We have a movie of negotiations that plays behind the soundtrack of careful cooperation,
We have hesitation taken with a glass of water and sleepless nights swallowed like a pill,
We have giving away pieces of ourselves like it's a drug deal in a darkened alley.
We have, we have interrogations in hushed voices like it's a stickup and we're both threatening to shoot ourselves.
We treat our relationship like it's a hostage situation, even though Americans aren't supposed to comply with terrorists.
We have let bargaining become our favorite song,
We are made up of equal parts grudging surrender and guilt-ridden victory,
We have settled for being mutually lukewarm instead of being ice and fire,
We have fallen in love with swept-under-the-rug but we still trip over the lumps,
We are kidnapping each other's hearts and writing ransom notes disguised as love letters,
Exchanging secrets like they are illegal firearms,
We are walking a tightrope like it's a seesaw,
We are content with being only half awake and half asleep because at least we are halfway everything together,
Because, you see, my girlfriend and I have this thing about ultimatums.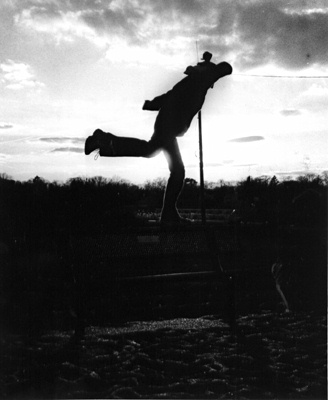 © Jessica H., Marblehead, MA