The Good Man
September 7, 2018
I remember it so vividly
The phone call
Her cries ringing in my ears
Words I can never unhear
Why did it have to come back?

Seven years ago
The first time
We ruptured
He splintered
And She became the equivalent of a single mom
Doctor's offices,
Hospital rooms,
IV's,
Needles,
Chemo,
Had become all too familiar
What was going on?
Why us?
When would it stop?
Questions flew through my mind
I had been too young to understand
We saw him that Christmas through a computer screen
Why did it have to come back?

One year ago
The second time
We fractured
He broke
And She struggled under the weight of it all
It was as if our lives had slipped out of our hands
We were falling
Crashing to the ground
More radiation tore him apart
He would come home
Bent,
Broken,
When he'd see us he would straighten and smile
As if to hide his pain from us
We saw it anyway
People tried to tape us together
But it wasn't the same as before
We seemed irreparable
Why did it have to come back?

Six Months Ago
The third time
We shattered
He crumbled
And She was reliving the nightmares
Surgery,
Stitches,
Staples,
Scars,
Have become all too familiar
I am older now
No longer confused
I understand
All my questions have been answered
Just not the way I wanted them to be
Why did it have to come back?

Through all of it
He looked on ahead
For the light at the end of the tunnel
He was glass that had been shattered too many times,
Yet He was always repaired with gold
Laughter healed the cavities,
Smiles patched the rifts,
Humor mended the fissures,
Piece by piece
Day by day
He glued us back together
He fixed Us
When He was the one that was broken
It took a while
But this time
We stuck
We have experienced Pain
Worry
Anguish
Uncertainty
Complete and utter fear
But we have been fixed
Though the future is still uncertain,
The pain has faded
The worry has subsided
But that doesn't mean the scars are gone
We are full of cracks and imperfections
We are chipped and
We are worn
But do not mistake us for fragile
Don't think we are weak
Do not treat us delicately
This has only made us stronger
And despite all of His faults
He remains
The strongest person I have ever known

One month ago
The Fourth Time
We absorb the shock
That's the way we were built
To withstand the worst storms
In the beginning it hurt
Now we're numb
Can't feel the tears
Sliding down our face
But even cement cracks under too much pressure
And emotions seep out

It's worse this time
The tumors spread
Lower spine
Upper spine
Brain

It's worse this time
Fatal
They say he has months
They won't go beyond months
It hurts
Everything hurts
The doctors are using Chemo
Trying to save his legs
Why can't they save all of him?

He says it part of a plan
That it will all work out
I believe Him
I need a miracle
Everyone says when
When
It's as if they have given up already
I can't afford to think that way
Why not if
If means hope
Death
It's inevitable
But inevitable is not immediate
Help me
Help us
Help Him
Why can't they save him?

Life
It can be hard to process
I haven't yet
I still think He'll be here for everything
For all the firsts
The First day of High School
My First Date
My First Prom
My First Kiss
And for all the things that last
My Wedding
My kids
His Grandkids
And for all the little moments
Cheesy dad jokes
Hugs
The sound of the door opening at six o'clock every night
The sound of laughter
Forehead kisses
Playing the piano together
Teaching me how to row a boat
How to fish
How to ride a bike
Dancing on his toes
Teaching me about life
It hurts us all
We're scared
But were thankful for the old days
The memories we've made
Dusty old photo albums
Video tapes from years ago
All ghosts that dance across our minds

Thy will be done
Four words
Keep me from falling apart
Thy will be done
We don't shatter this time
The fall is definitively harder
But we hold on to each other
We hold on tight
Because if we break
Then He breaks
And there is no guarantee that we'll come back from that

Spare Him!
Save Him!
Words burst from my mouth in a cascade of agony
We can't lose him!

They say I don't know a thing about acting
But the truth is
I know a lot more than they do
Because all of this is an act
They can't see that I'm just a facade
A broken glass arranged to look whole
A mirage of water that was never really there

And the truth is
I learned it from him
Those rare moments when He thinks He's alone
But He isn't
When I see His face
Twisted in pure anguish
He puts up a show
To spare us from the pain
His pain
The worst part is that most of it isn't physical
It's emotional
He can't bear the thought of losing us
Nor we Him

I think of how strong he must be
He helps me stay together
When he's the one falling apart
He has never given up
And He never will
He is
The strongest man I will ever know

Last Week
We went to the cemetery
So he could pick out his plot
Mom visited the mortuary
Making videos of how to do things
Things that he always did
Like setting up the trailer
Turning on the sprinklers
Fixing the fireplace
He needs help to walk
He leans on us
Can't bare the thought of using a walker

They're going to Alaska
He and Mom
Going on a fishing trip
Going to see my uncle
One last time
We stay home
Spending the day at school
The night at my aunt's

Saturday
Mom calls home
They're coming back early
He can't walk
My uncle is coming too
To Help
We need to clean
So we do

Sunday
The first time He has missed church in years
But they bring it to us
The sacrament
He is unable to hear out of his left ear
Sleeps most of the time
When he talks it is almost inaudible
He asks me to draw his fish
I do
I show it to him
A quiet whisper escapes his lips
"It's perfect."
Quiet tears escape my eyes

Monday
We skip school
We think it's His last day
We spend hours at his bedside
Crying

Tuesday
We go to the last half of school
Come home
Fall asleep by his side

Wednesday
We skip school
My other uncle comes from Atlanta
Our house is full of family
We fall asleep by his side
I wake
I hear His slow gasping breaths
I count the seconds between them
In
Out
1,2,3,...7,8,9,...13,14,15
In
Out

12 Respirations per minute
9 per minute
5

I watch as His last breath leaves his body
I hear
A muffled cry
His Mom
My Grandma
She runs to get my Mom
And my family

We watch through a blur of tears
As the color slowly leaves his face
We cling to each other
We already said goodbye to him
We don't this time
It isn't him
Only his body

Mom calls the nurse
Then the mortuary
They come
And leave
I whisper "Safe Travels"

He is still
The strongest man I have ever known
And by medical standards
He is a survivor
Of Cancer
The time bomb
But the only way He would want this to end
Is simple
Concise
And the only way I can do that
Is to simply
Say that
In the end
He died
Not only a strong man
But a good one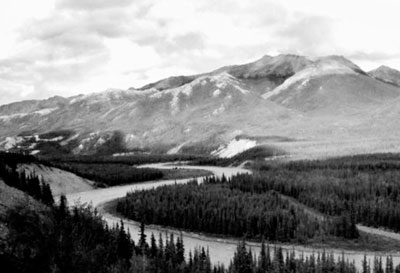 © Hannah B., Linwood, NJ