The Ebb of Life
May 7, 2013
Words flow of out of the bosom like the beat of the drum within it
Words flow out of the mind, from the grey within it
Words flow out, and yet they are hollow
For the life behind them does not follow

For the bosom that ebbs it out is drab
Trapped in its shell, like a crab
For the grey, that eloquent grey
Has gone old, shabby and fray

Words flow out, forth every space and creek
Some very loud, some very meek
And thought the world is his audience, yet
Not its intended audience has it met.

For the ears intended, is far yonder
Or so it seems; yet she ponders
Why has my love not spoken?
Why does he leave my heart here, broken?

For she not knows that her love
Is screaming his life out from his cove,
In bondage he is, straining his wrists on the link
Every letter he writes, his blood is his ink

And his love, over yonder
Continues to ponder
As to why her pleas have gone dumb
As she cries herself to sleep, with sadness numb


Though not seen, the poor man
Beneath his cast iron armor, he is but an empty can
Without his heart, which is with her
But yet, his tears flow with his words, for her

Woken up is she, by the pitter-patter of the water on her face
Numb from her sadness and her unanswered case
She finds herself in a sea of red
Alarmed she is, as she wonders who has shed

The life giving crimson from their veins
That life giving crimson, so that she may gain
A fuller life, of fuller joys and meeker sorrows
Given back he had to her, the body that he had borrowed.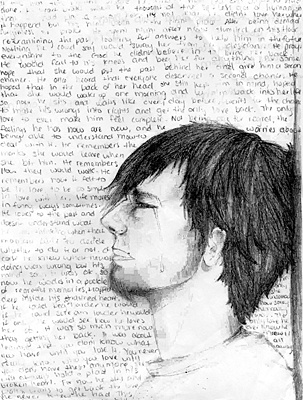 © Annie M., Columbiana, OH