God Bless the USA
May 30, 2011
"Come, come," he said with hurry,
"we haven't any time to waste!
The sun is leaving us as I speak.
We must go now, please, make haste!"

"Do you have the flag?" I asked
With anguish in my heart, for I knew what I said.
"I do indeed," he replied gravely.
"For tonight, the ground on which we stand will be painted red."

We rose and ran,
Guns on our backs.
And in our hearts,
We knew that some would never come back.

Shots rang out across the land.
Men fell left and right.
But they knew what they were giving up;
they chose to fight this fight.




Then he was hit beside me,
falling down, and he spoke as he may,
gasping "Stars and stripes, left and right,
God bless the U.S.A."

He could never see the stars again
But in dreams he knows those stars and stripes
Today I'm sure he's found his paradise
For he knows he served his country right.

I carry his last words with me now,
my eyes down, hat at my side.
For when the door opens, I'll let his family know
that their son, brother, loved Miles has died.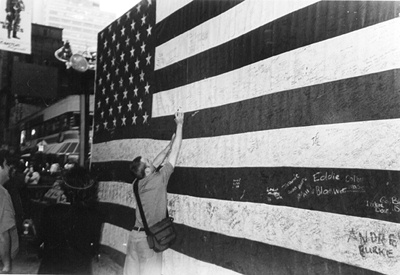 © Kyle M., Marblehead, MA