Surreal
February 19, 2011
I felt his excitement,
This was going to be his best summer vacation.
He got to be with his dad,
For two months in another nation!

He had the biggest and best smile,
The best attitude and the best heart.
His enthusiasm couldn't be misread,
It was a great start!

He was bouncing in his seat,
As we arrived at the airport.
He ran to his father,
After all, I was just his transport.

His father caught his excitement
And all was going well.
In fact, his father was too happy,
Something was up, and I could tell.

At the check-in counter,
The airhostess' almost threw me off my feet.
My son's ticket had an error,
I begged her to hit backspace or delete.
His ticket was for a one-way trip.
It cost a lot to make a change.
I pleaded with his father for a loan
His refusal wasn't as all strange.

Seven years was too long a wait,
I needed to change that ticket.
I pleaded for some time,
Although I knew the clock was ticking.

I ran to get some change
But I took longer than I thought,
I was told they had boarded the plane,
Even though the money I had brought.

I dodged crowds of people
As I ran to the gate,
Hoping, wishing, praying
That it wasn't too late.

All my hoping, wishing and praying were in vain.
They were gone.
I couldn't believe this had happened,
I just sat there and let myself mourn.

A father who had lost his child,
Accompanied me in crying.
I had lost the only thing that matter to me,
I couldn't pull myself together although I was trying.

I made my way to a coffee shop,
Got myself a table,
Laid my head down and cried;
I was anything but stable.

A friend found me
And after I explained,
We cried together.
I was physically, mentally and emotionally drained.

She said she felt my pain,
But that's just something people say.
It's impossible to feel pain like that,
And breathe comfortably throughout the day.

I awoke with such hurt in my heart,
That I didn't think I'd recover.
For he wasn't just a boy and I, his transport.
He was my son and I was his mother.

Tears stained my face,
And that nightmare clouded my day.
It was difficult to explain in words,
The pain so unbearable, I just couldn't say.

It was more than just a nightmare,
It was a lesson; I would never be the same,
For I lost my son,
Before I even knew his name.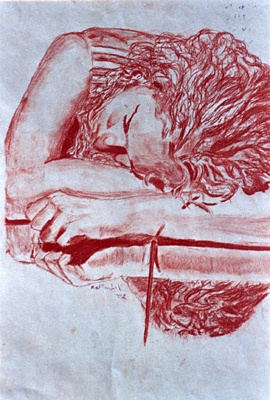 © Mark S., Kannapolis, NC