My Serenity Prayer
December 18, 2017
What made you sing that song to me, I might never come to know
What made you choose that verse, you may never want to show
But you did sing that tune, that stirred my soul
And awaken it did, to the sound that made it whole
My words may seem superlative, my statements may sound flattering
Mind thee, my love, that I am a life who's endured a battering
Of body, mind and soul; wounds left a gaping hole
But heal it did, to the sound that made it whole
When you said, "Don't be scared that you're not enough"
When you told me that what we've got going is good
Believe me love, those words were most nectarine. Oh!
Find hope I did, in the sound that made me whole.
But wait, was I delusional; was I fooling myself to think
That a Broadway musical song that you did sing
To put my tired soul to sleep, was a message encrypted
That you did still love me, even after all that has been inflicted?
Was I building castles in sky? Was I building a palace on the clouds?
These emotions of happiness, joy and sorrow engulfed me like a shroud
Too confused they did leave me, too scared was I to think
Was this another chance, to remake the link?
That we lost a long time ago, more so broken
Fractured and reset, torn and rewoven
But you did say to clear the slate and start over
And try to quiet the noises in your head
You said so, at a huge turning point of time in life
You echoed the message to me which was given
I see all these as signs that God wants us to be
But dare I act upon it and say it was me?
My will did bring us some joy, but years more of sorrows
Dare I impose my will once more to try and borrow
All those years since passed of joyous days that we could have had
Try to make good of everything that was bad
I fold my hands as I bow my head in surrender
"God, ever kind and provider of love so tender
Grant me the serenity to accept which I cannot alter
The strength to accept the past, with all that I have faltered
Fill me with courage to change what I can
Imbue me with the confidence to be the better man
Grant me the wisdom, so that I may see
Me losing sight of my will and thee
For my will had led me down a path ever rotten
A life horrendous, best to be forgotten
Hence God, all I ask of you, is to make me an extension of your will
Take me down the path that you want me to fulfill"
As I said this little prayer, my shoulders felt light
My soul felt warm, an image of your face so bright
Reflected in my mind as I closed my eyes to sleep
For though I surrendered my life unto God, my heart is yours to keep.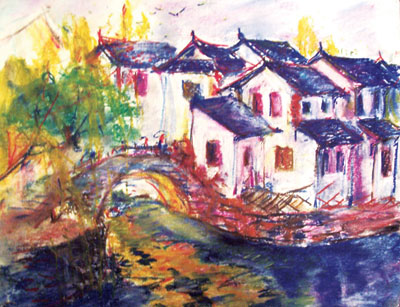 © Xiao H., Naperville, IL