She Was Never Coming Back
May 31, 2016
She was one to care about looks, says the rows of makeup and nail polish on her shelf.
She didn't have a lot of friends over, says the messy floor.
It was because she had a reputation, says the whispers that followed her down the hallways at school.
She has been gone for awhile, says the dust on her doorknob.
She was never going back, says the bed unmade from a few weeks ago. 
She was missed, says the empty desk in English class that shouldered thousands of stares.
There was someone that missed her more than others, says the pair of blue eyes that never left the desk.
His name was Clay Jensen and he was responsible, says his driver's license with its clean record. She was never coming back, says the way his heart broke.
She planned it perfectly, says the old recorded tapes of her story in Clay's hands.
She was pragmatic in her own way, says the her recordings that screamed "it was the only way out."
There was no hesitation, says the neat medicine cabinet missing half a bottle of its pills.
"I would have helped if only I knew," says the silent tears Clay spilled.
She was never coming back, says the way his world stilled.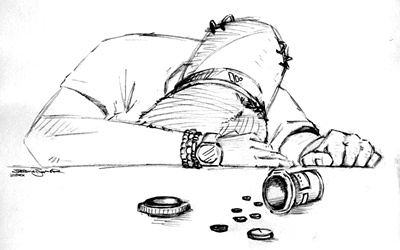 © Jeremy B., Austin, TX