The Everlasting Nightmare
February 11, 2009
Nightmare

Darkened faces and empty stares
Are waiting as I step into this room
The room that's pale as moonlight,
As cold as a corpse's blood.

I've been here so many times,
But I don't recognize anything
Just as I don't recognize
The ill faces of the people who
Stare at me.
Their eyes are trying to see into me
But I can't let them do that.
Because if they see into me,
They'll know who I am
And all my secrets and pains will be revealed
To the hungry hearts and blackened souls
Of the spirits in this room.

Then they'll know how to beat me
To trap me
To coax me out and bind me
To make me one of them
So that I can never go home.
So that the next time somebody stumbles in here,
They'll see my dead face
Blankly staring out at them.

I run from the silence
I run from the darkness
But they all know where I'm going
And these strange people have blocked out the light.
No words can come out of my mouth,
For they only become shadows that creep up the wall
And disappear to the place
Where all the other screams,
Last chances,
And false dreams have gone.

I plead as they surround me
Please don't do it,
Please don't hurt me.
I can't stay here forever
I have a family.


What will they think when I never come back?
What will they think when they can only see me
In their nightmares,
As the face that's so familiar,
But so vaguely forgettable?

My mouth asks the questions,
Forming word after word
More desperately as I realize nobody can hear me
And nobody's listening.

They're going to take me
They're going to make me one of them
And I'm going to stay in this room forever.
I will know every crack of it,
I will live in the darkness of it
And when other people step into it
Though my heart will want to warn them
My eyes will only stare.

Then, light!
Seeping through this haze!
My mind is opening!
My words are being heard!
I hear my screams,
And they are so loud and so beautiful
That I shout them harder
Up to the stars and the heavens above.

My eyes are opening,
Have they been closed?
Heaviness is lifting off of my shoulders,
Of my heart.
I choke and gag as if drowning
But the only sea I've seen
Is the deadly sea made of darkness
And pale white bone.

There's something gripping my shoulder
Something that's helping pull me out!
I grab on tightly and don't let go,
The images of all those faces with no emotions
Shimmering away.
They're calling to me
Nothing can come out of their mouths, either
But I hear their crackling voices in my bones, saying
'We will get you next time.'

Suddenly,
My mother is here
Crying and holding me so tightly
And so lovingly
Pulling me out and winning!
My mother is winning!
She hugs me as she shakes,
Whispering in my ear that it's okay
That she's here now
That she'll never let me go.

I am speechless,
Still shivering in the thoughts of those empty eyes
Of the people I left behind.
I want to believe that my mother will protect me
As she's done tonight
But I know she can't.

I will eventually be taken
And there's nothing she or I
Can do to stop it.

But for now,
I cry in my mother's arms.
I am cradled in my mother's arms.
And looking ahead,
I know I will die in my mother's arms,
My body a lifeless ragdoll
As my soul joins the others who fell
Into this everlasting nightmare.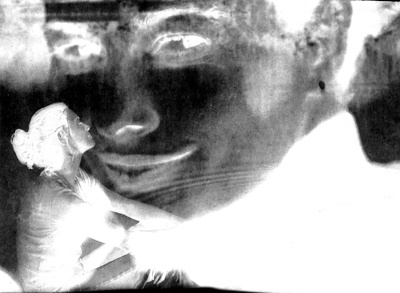 © Jodi H., Marblehead, MA