Grey meets Blue
February 10, 2009
Grey meets blue,
As I gaze into the distance,
I stumble upon,
Something unique, and on sight.
Far away, across a whole room,
A gleam catches my eye,
Some thing rare,
Something that exists in places so few,
And I stumble some more, I look for the flash,
Until my eyes crawl on home, and grey meets blue.

Our eyes cross paths,
I see she's so far astray
People pass through her,
And my gaze fades away,
But her eyes are still there,
And I know that mine are not,
So I pick up my head,
And our gaze meets
And I see her again,
So far away.

Grey meets blue,
As I look at her whole,
Her hair black as night,
She rouses my soul,
I look at her skin,
So delicate, so fair,
And its then when she throws me a smile,
I realize she's is something rare.

I throw out my arm,
And it travels quite far,
Because with her in my mind,
Distance is nothing.
And as I keep on moving,
Grey meets blue,
I am locked,
Hypnotized.
And we stare longingly at each other,
As grey meets blue.





She throws out a smile,
And my soul just erupts,
I run through the crowd,
As she lovingly stands up,
I run through them all,
Straight to her face,
And we lock our bodies,
In a loving embrace.
So there I stand,
As grey meets blue
I stare into her eyes,
And I prove to those few,
That love at first site is possible,
Any one would agree,
If they felt grey meet blue.

I can't let her go,
And neither can she,
We feel a love for each other,
She loves me.
And I stare at her smile,
And I look at her face,
And time stands still,
Warmth radiating from love,
As grey meets blue.

My hands pass through,
Simple plain air,
And I stare at a wall,
Which was blocked by her hair,
At first I'm confused,
I spin around fast,
And I realize,
That the years have simply flown past.
As much as I loved her,
And I knew she loved me,
Her train had departed,
She wanted me to be free
There's no doubt in my mind,
That tears run down her face,
And there's no doubt in my mind,
Ill never feel her embrace,
And I know for certain,
Ill never see her again,
And I sit there,
Cursing time,
For not stopping,
Cursing time for leading her away,
And I sit there.
Crying.
Cursing time, for letting her run away.

And I sit there,
And I will never move,
Because I mourn the day,
When gray met blue.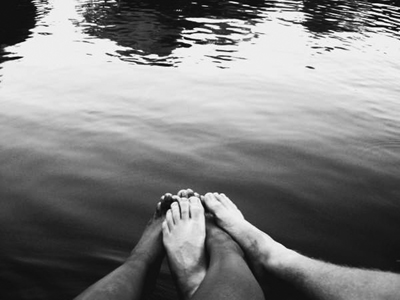 © Michelle W., Ada, MI