My Thoughts are Stars that I Cannot Fathom into Constellations
February 7, 2015
I have a vocabulary of over one million one hundred words, yet now- now I cannot string together a single passable sentence. In my family, I'm supposedly the one with the head full of dreams without bounds, and now- now, my mind fails to yield a single original thought. They ask me to do what I love and to write, and suddenly, my mind is a dam- one million cubic tons of ideas, all trapped behind an impenetrable wall.
Other days, my thoughts are an unstoppable river flowing forth from my pen, and now, when I actually need them, this infuriatingly obstinate pen resists every desperate effort of mine to scratch out a word in this coldly unforgiving icy-blue ink. Every vaguely witty, or even semi-coherent thought that I have ever had burrows to hibernate beneath some hidden rock embedded in the nether regions of the catastrophic train wreck that currently constitutes my brain.
What frustrates me the most is that I feel them there- the dregs of the educated fifteen-year-old girl who reads and thinks and has interesting things to write about- these dregs are there, just out of sight, just out of reach, tantalizing and almost tangible, but they remain stubbornly elusive in this, my moment of need. I can write, I swear- essays and articles and stories- just ask my English teacher!
I've done this all before, so easily I feel like I am floating, drifting through a forest of words and wordsmiths- I promise you, I can! But now, now when I'm faced with a simple task- to draft out a poem in front of an actual, real live poet, my backstabbing brain decides to abandon me, leaving me utterly devoid of any creative juices whatsoever. An unfulfilled desire to create something great festers inside of me, and I cannot, for the life of me, think of what to write!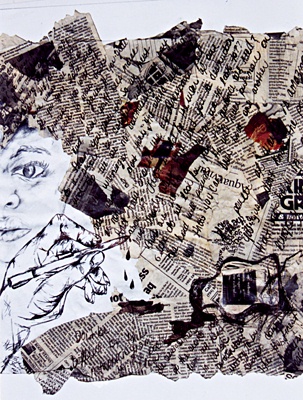 © Lashieta F., Kannapolis, NC