One Thousand Stairs
January 8, 2009
I wish I could run up one thousand stairs, say sorry and fall,
I wish I felt like something, though I'm not anymore.
As I fall I want to feel something I never knew existed
That feeling that would leave my heart forever flattered.
I wish I could tell people why I'm doing this,
How hard it became and you thought it was bliss.
I said that I tried and unfortunately you all believed me,
Was it because I was just that way or because I wasn't ready?
For a second there I honestly believed in myself,
I believed that I could truly become something else.
I failed you all, him and most importantly including me,
Write this write that, understand this, why can't you see?
As hard as I tried to concentrate and tried to learn,
It never seemed to stay and this was my biggest concern.
That with my problem I could never get any where,
So why am I wasting both our time while I could be running up one thousand stairs?
When I was young, you said I was amazing and great,
I soon became nothing, dumb with no fate.
One night I decided to sleep just for once,
Dream what I wanted and see what's above.
I spent days wondering about the thousand stairs,
If running was worthwhile to escape from my nightmares.
I travelled up them though it took me a long time,
Goodnight everybody, wish me a good afterlife.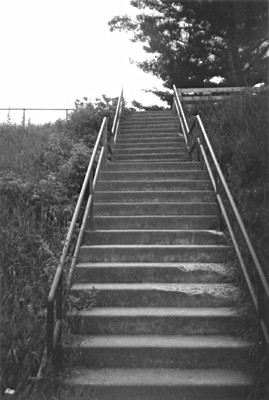 © Eva A., Eagle River, WI