The Vampire
October 28, 2014
I lie here paralysed in myprison
The blood on my neck has dried
Leaving stains all over me of crimson
My cheeks are sore with all the tears I have cried
And now, terror fills within
Creak and gasp, the door is flung open....
Oh hell! Have I committed a sin?
To be so far away from any safe haven...........
And yet the unholy predator clambers
Up to my help-less form
There's not a word or any stammers 
The eyes of her glowing like lightning in a storm.
The mouth closes up on my throat,
The hot blast of her breath
There's terror and yet I feel no loath
As now I'm trapped within the vampiric stealth
The fangs sink in
"Oh let me go!" I plead
There's pain on a long note
As it feeds on me with evil greed
The blood red lips withdraw
And curl up in a beautiful smile
There's beauty in this darkness - really deep, really raw
Sinful, terrifying yyet not hostile
Prisoner for life now? I don't know
The pain sears me through
My predator leaves now though
My soul dyed with a differebt hue.........................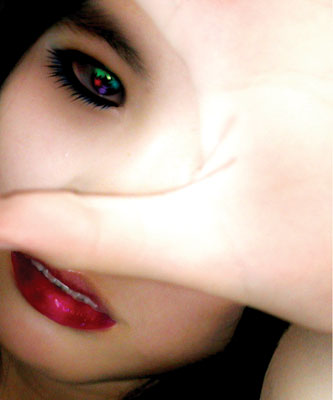 © Victoria W., Arcadia, CA