Hell...
December 23, 2008
"Roll on, thou deep dark ocean, roll" goes a poem
Hm, not only oceans are deep,
The mind of girls are the same,
We might call them our own, but they're not ours to keep.

Complex, intricate, ornate are a few
Words to describe them,
Are many, many, and sometimes very new
First it was "Honey" now its "babe"

How nice it would be,
If there was a girl for me.
Somewhere out there...
Somewhere... but where?

Is she in my house? In my street?
In my city? OVER THERE?! SWEET!!
... ... Where?! Where did she go?!
Who looked like an angel, hair like velvet flow...

Eyes like the Pacific, lips like cherry blossoms...
The one who made sheik kabab of my heart,
Where'd you go?...
Why did we part?

No, for it was the fault of mine.
Mine was the fault...
I let her go, broke her like fragile pottery
Like an expensive China vase, broken to pieces...

No glue can ever put her together. nothing can fix her
Nothing... except one thought.
Forgive me, I'm a cave man, harsh and rash...
I stupidly thought you were a diamond, to be used break and mash..

Ever shining, indestructible, constant as the North Star...
I thought you are, and then you went so far...
But, now I found my mission in life, my goal, my aim..
To find you, caress and kiss you, and make you my fame...

But now, this cave man has evolved, purged of his harshness
In you're eternal flame...
For all my life,to me,
You are hell..

The hell I love, the flames I savour
Scorching my body, burning my heart and skin
Clensing my soul, purifying me
From within...

But................

" I'm sure the view from heaven
Beats the hell out of mine here
And if we all believe in heaven,
Maybe we'll make it through one more year
Down here"........................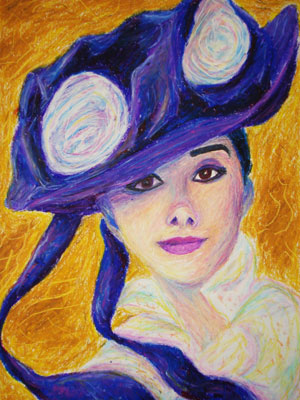 © Amelia M., Pheonix, AZ