A Heart For Her and A Heart For Me
May 5, 2013
A heart for her and a heart for me,

this longtime friendship that was meant to be.

Love, playfulness, and so much laughter,

something I'll enjoy happily ever after.

She came into my life like a gentle little breeze

and now I wish no moment will ever freeze.

She saves me from myself and makes me smile

and for her I would go the extra mile.

I look at her and see a hero in disguise.

I look at myself and see a personal demise.

She never fails to cheer me up.

And nor, she tells me, will she ever give up.

I owe her so much, she has no idea.

In my heart she will always live.

I love her so much, my heart is always filled with joy.

Never with her feelings, would I ever toy.

More than friend, she's like a twin.

If you ask me, that's a sure fire win.

If ever she needs someone to talk to.

My lovely twin, I'll make sure I'll always come through.

She's so perfect, even if she denies.

She is true kind beauty in my eyes.

I'm so lucky to have her as my best friend.

I really hope our friendship never ends.

When she cries, my heart cries with her.

I would never want to let her sadness wither.

When she smiles, I smile too.

I'll get a camera and say: "Let me take a picture of you!"

She'll shy away and blush really red.

There is no moment I would ever dread.

I'll hug her and hold on to her tight.

And she'll assure me everything is alright.

She'll never truly know how much she means to me,

seriously how can she?

I know I can probably be too much,

but I know she loves me a whole bunch.

Best friend, if there is anything I can do to repay you,

please, oh please tell me what can I do?!

I picked up a pen and then another.

I looked at her and thought: "What would I ever do without her?"

She looked back at me,

right then and there, we were probably thinking the same thing.

I drew a purple heart for her,

she drew a red heart for me.

We laughed at each other,

cause we're so crazy and unique.

I can think of over 100 nights of hilarious fun

And so many funny memories that can't be outdone.

She has so many amazing qualities about her,

one of them being which, is making me howl with laughter.

We're so alike and so in tune.

She is the dazzling bright sun, and I am the shining moon.

So much personality and so many quirks,

for her it just really works.

She is just too amazing and too sweet,

being her friend is truly a treat.

She's something I will always cherish,

Our friendship is something that was always embellished.

I looked at her hand, she looked at mine.

I know our friendship is one of a kind.

A heart for her and a heart for me.

A longtime friendship meant to be.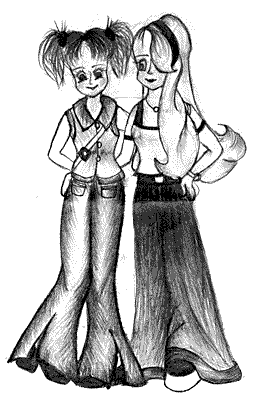 © Na L., Flushing, NY