Poison Flower
March 11, 2011
A blossom of green cupping the sudden uprooting of blood velvet.
Nestling the heart in a silk basket.
Romantic blanket escaping its inner prison .
Wild and untamed , no direction or purpose.
Enchanted aroma glides flawlessly amidst the air.
Maker of jealousy and respect.
Criticism does not exist with its open mind.
Its love will never rust or tarnish, but only grow more intriguing.
Even when life will cease to exist, the enlighten of a rose's poison will never fade to be as deadly as it looks.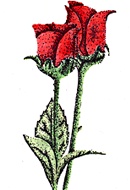 © Sarah M., Phoenix, AZ