Holding Hands....
January 8, 2010
A tinkling near my palm, the nearness to me...
Oh my goodness, why couldn't I see?!
She came close, closer still and...
She wanted to walk with me, holding hands...

What can I do, this is all very new to my head
Yes, we do dream about cuddling each other in bed,
Like teddy bears to kids, coming closer and
Losing ourselves to each other, holding hands...

Its news to everyone on my side, and some on hers'
I walk quietly beside her, everything else instantly blurs...
When I look at her face, and I can't
Help but to walk with her, holding hands...

We part for the night, and on her way back,
I ask her for forgiveness, if I sounded a bit cracked
On our just concluded outing, so softly and...
She said, "I wish that we could have walked together, holding hands"

My goodness man, you are so dumb!
She is the girl who made your body go numb!!
How could you not see the signs, prompts and
Walk with her together, holding hands!!

Like I've said before, to me its a new feeling...
A feeling which helps the old wounds, which are still healing
To become better... better and
Walk with her together, holding hands...

This feeling that I felt... the warmth of her palm
It cooled the heels o' my psychotic head, bringing calm
And when she looked at me... O that glow will forever stand!!
In these lovely memories, when I walked with her holding hands...

But yet, I had to let go, for she feared the worst...
Those evil-eyed ravens... O you ravens, may you be cursed!
You encroach on our peace, our lovely moment and
Stopped me from walking with her, holding hands...!

You don't let us be, you don't let us breathe...
Why you heartless, senseless people of this creed
Who stalk us always; prying, preying and
Not let us walk in peace, holding hands!!

I don't know about you, or the person beside...
But I for one, will declare with gusto and pride
On this day, in the middle of this din, chaos and..
Havoc... I found peace...


Just walking with you... holding hands...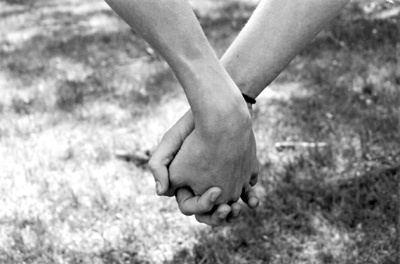 © Alexa T., Pompton Plains, NJ