The power of the personal trainer
July 10, 2013
July has silently snuck up upon us and suddenly there's no escaping the terrifying truth. Summer holidays are fast approaching, bikinis are flooding the high street, scantily clad teenagers plague the streets and yet we still have not successfully budged that excess winter weight! What to do?! The clock is ticking and there seems only one plausible solution to this crisis – a personal trainer! Expensive but oh so necessary!
Indeed this appears to be the thinking of many panic stricken women desperate to achieve the ultimate bikini body to parade along the beach and incite the malicious jealously of those less fortunate creatures sporting a "tankini" in a self conscious attempt to cover up their "wobbly bits." There's no doubt about it, personal trainers are hot stuff right now! From DVDs, magazines, autobiographies, websites, heck even bloody reality TV programmes!, somehow the celeb not-quite-so-personal -anymore trainers have seriously gone viral. But will this elite race of ultra fit, tightly toned, obsessively motivated individuals really turn my life around and have me looking like a Victoria's secret angel in no time at all? Or, are these insanely wealthy business people simply preying on the instinctively self conscious nature of us weak willed mortals who would rather weigh an extra pound than deny a bar of Cadbury's in front of the television? The latter a cynical view perhaps but evidently probable considering the excessive branding and merchandise now associated with trainers such as Tracy Anderson, Jillian Michaels and Jeanette Jenkins, to name but a few of America's most famous fitness faces.
So what is it exactly that makes these fitness fanatics so appealing that people are willing to fund their celebrity -esque lavish lifestyles when they could simply go for a jog around their local park (a far cheaper and more enjoyable option)? A personal trainer it seems is no longer simply there to work you hard at the gym, to prevent you from caving when you hit the wall at 4.7km on the treadmill and honestly believe that you cant make it that little bit further, to ensure that you sweat and cry and hurt like hell the next day. No, a personal trainer is so much more than that – a personal trainer is your best friend, your guide, your mentor, your life coach! This new breed of "super" personal trainers are seemingly capable of ensuring that you look like an underwear model AND improving your life – they're going to make you a better person! They're going to make you happier!
Tracy Anderson, trainer to an array of female stars including the likes of Madonna, Gwyneth Paltrow, and Jenifer Lopez is surely one of the most influential women in fitness. Despite having an arguably controversial reputation, Anderson's celebrity clientele have safely secured her a celeb like status as she is deemed one of the most coveted trainers on the planet, allowing her to build up a hugely successful empire. Tracy Anderson is no longer a personal trainer; she is a brand (and a bloody big one at that!). A quick scour of the Internet reveals to me that Anderson owns gyms in Los Angeles, New York City, The Hamptons AND London. She has her own books, DVDS, a clothing range, fitness equipment, detox camps, and a food program which at $45.95 per day will provide you with 3 skimpy meals. Quite an accomplishment for a 38-year-old mum of two. However, Anderson has been recently criticized for "scamming" clients after it was revealed that whilst she claimed to create personalized Pilates regimens for different body types, which her customers paid for, the regimens were actually exactly the same for everyone. The problem, it seems, is that the once personal trainer simply isn't personal anymore. What, can I ask, is even remotely personal about watching one of Anderson's workout DVDs or video clips that thousands of other people across the globe have access to? Nada, rien, absolutely nothing!

Moreover, there is also concern that some Personal trainers are endorsing unhealthy life styles, which are not medically advisable. Gabsmash have said of Anderson's regime:
"Tracy Anderson is a scammer promoting an utterly insane, unhealthy, extreme, and unbalanced lifestyle.I can just see women fainting en masse. Who can safely survive on a lunch of two hardboiled eggs, ½ a cup of baby carrots and ½ a cup of cherry tomatoes?"
Indeed on her website the trainer makes the somewhat extravagant claim that with her help:
"you will transform your body, defy your genetics, and create the body that you never thought possible."
Sounds….natural?

It is apparent that the celebrity obsessed society that we currently live in has well and truly infiltrated our diet and exercise regimes, convincing us that regular exercise such as a walk along the seafront, a swim at the local pool, or a jog around the park is simply not enough. Whilst the NHS recommends that 30 minutes of exercise five times a week is sufficient, Tracy Anderson convinces me on her website that I must "Train for one hour a day six days a week." Clearly, a personal trainer provides inspiration, challenging workouts and a variety of weight loss tips. However, it seems that the power of the celebrity personal trainer really lies in their hugely optimistic promises, supposed spiritual and emotional support, and their simple exploitation of insecurity. Of course I want to have Gwyneth Paltrow's slender shape and I would probably sell my sister to have the tiny waist of Lucy Mecklenburgh (who wouldn't?), the latest reality TV star to vivaciously jump upon the personal training bandwagon and launch her own health brand. But, if I do fork out a small fortune to gain access to celebrity exercise and diet regimes, if I allow them to dictate to me what exercise I must endure, what I may and may not eat, if I say no to the late night dairy milk, if I persevere and grit my teeth through all of the blood, sweat and tears will I ever actually resemble any of these enviable celebrities? I fear not! So perhaps then we should vehemently refuse to be caught up in the whirlwind of personal trainers and have faith in ourselves. Lets grab those unworn Nike's lying dismally by the front door and tell ourselves that WE CAN DO THIS ALONE! Because you know what? We can.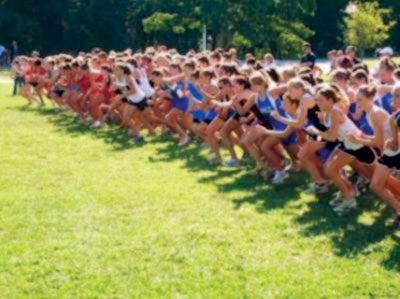 © Ashley R., Charlotte, NC