Feeding My Fires
August 21, 2009
An incendiary tone is something I have always struggled with. It often seems as though when I attempt to inspire others I am met with an uncomfortable, awkwardly polite silence. And that is what I try to dispel with my works, my writing. Although, recently, I have noticed that my writing isn't an effortless ooze of thought that fills every blank space, as I would like; rather, it is a drunken staggering of syntax to say more, say anything, to quaff the deafening nothing-noise that fills my ears in the moments after I speak. I try to squish it, hide it behind clumsy stammering and embarrassed shifting of weight, but my writing refuses to be ignored. My works burst through the door, yelling, "Look at me! Feel me!" And people look. And they feel. And I, instead, am ignored.

I shout after my poem that snobbishly refused every title but "untitled," shriek, "I wrote you! I made you what you are!" It sneers at me in its self-righteous pseudo-intellectualism and sashays off. My poems, my works, are b****es, I think.

Looking at my writing I can see my resentment rise, feel my growing indignation. I hear them scream as a mob, "Hey! Look at this! This has stream-of-consciousness interludes! Guys? Look at this, guys! This has shifting narratives! Guys? Guys? Don't you walk away from us! This is a good one this time this is good you brats don't you dare you sons of b****es! HEY! LISTEN TO US! YOU JERKWADS COME BACK HERE YOU GOOD-FOR-NOTHING NEGLIGIENTS AND READ US!!"

I am appalled at my insistence upon myself.

Later, at night, my works crack open my door, sneak into my room softly, wake me up gently, and cry into my shoulder about boys and death and cancer and life. I pat "untitled"'s back, whisper, "Shh," rub the space in between lowercase stanzas, and...slowly...remember why I wrote him: to inspire others through my work.

My works are nomadic, transitory; but every so often they return to me for advice. And maybe, just maybe, for a little punctuation. When I finish I punch them lightly on the shoulder and can't help but smile as they leave to come back, wondering at their confidence and brimming with pride at the sterilized newness-feeling that courses through my bloodstream.

This, I think, is what it means to be incendiary.

My works leave to light the world on fire.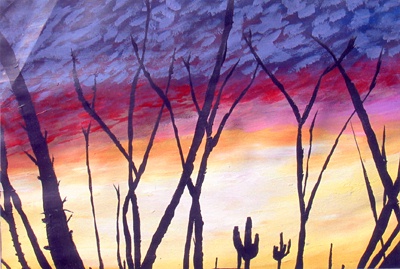 © Kassia C., Phoenix, AZ