Freedom to Read
October 17, 2013
Banning books has been a problem for centuries. In 1722, for example, Moll Flanders by Daniel Defoe was banned for being inappropriate, filthy, and obscene. Even though these are qualities that make a book improper for certain readers, this does not give anyone the right to completely discard it from society.
There are many citizens in different communities that agree certain books should be banned, some of these books include Lord of the Flies, Flowers for Algernon, To Kill a Mockingbird, and Bridge to Terabithia. The most common reasons that certain novels are banned include racial injustice, the "encouragement of damaging lifestyles" (Reasons), blasphemous language, and many more issues that people deal with and hear about every day on the news. If concerned members of society are going to ban books over these issues, then they may as well cancel all the news programs on television. And who wants to stop children from reading these educational books? Mostly they are parents, teachers, and some concerned librarians. Even though their actions may cause some book-lovers to despair, they are purely doing this because they feel it is right. However, in their process of trying to free the world of all things unholy, they are slowly wiping out the culture of mankind.
Conversely, these are also the same people who fight book banning. Parents who want their child to know what really goes on in the world, and teachers who want to use this amazing literature to teach symbolism, motifs, and theme. There are some people in society who realize the importance of these books that are being so carelessly thrown away, and how much they stand to teach humans about society. They see the damage banning books is causing, and they want these books back.
Taking books out of people's lives is wrong, no matter how gruesome or sexually displeasing the book may be. It is each individual's choice of what book they want to read, so it is up to society to allow them to have that choice. As Voltaire said, "Think for yourselves and let others enjoy the privilege to do so, too" (Quotes). If individuals are expected to be able to make decisions for themselves, then society must first give them something to make a decision about. If all the books that offended one person were locked away in a small room, then there would be nothing to test human's morality. They wouldn't be able to see what type of person they were or what type of books they liked because there would be only uninteresting books left. And which books do we call offending? Oscar Wilde explained it very well by saying, "The books that the world calls immoral are books that show the world its own shame" (Quotes). It is books like To Kill a Mockingbird and The Adventures of Huckleberry Finn that are receiving the opposition of mankind. These books don't make up fanciful ideas about warlocks or witchcraft, they simply remind us of the terrible things that have happened in our past. Instead of banning these offensive books, there should be a warning label on books that contain elements which might offend the reader.
To conclude, the banning of books in society is wrong, and if citizens insist upon banning offensive books for much longer, there won't be any literature left for us to read. We won't be able to learn from our past mistakes if those mistakes are wiped from our memories. If books can be banned just for the satisfaction of one individual, then we may as well live in a world where there were no books at all and where the whole culture and experience of mankind are left in the past. In the words of Heinrich Heine, "Where they have burned books, they will end in burning human beings" (Quotes).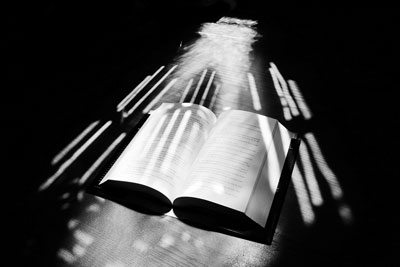 © Monica L., St. George, UT