Our Love and the Galaxies
November 11, 2017
Scientists say that in a few billion years our beloved Milky Way will dance one final dance with the Andromeda galaxy and collide in one last beautiful spectacle, before completely wiping away everything we've ever known as humans.

In a way, that was our love. At first, it was amazing. It was a lucky chance that out of every galaxy in the vast vacuum of space we ended up together. It was spontaneous, a chemical reaction in our brains that turned our bodies into attracting magnets. I was high on Serotonin and Dopamine, loopy on love films, completely and utterly lost in your eyes.

I became addicted to the chemicals in my brain, the feeling of butterflies in my stomach, obsessed with your smile. I was stuck on cloud 9, reveling in the fact that I had the privilege of loving you.

But like the Milky Way and Andromeda, our love story was not at all a love story but in fact a demented tragedy. Our love was never meant to last, but to crash and burn in flames and chaos. Our love was meant not to feel good but to feel like death had come to reap my heart.

A final dance was danced, the night we ironically laid under the stars, waiting for the sky to clear so we could see our fate. I still don't understand where we went wrong, how in a matter of seconds our once attracting magnets became repelling.

How in a matter of seconds I would go from loving you with every single atom in my body to hating you with everything I could muster. How in a matter of seconds every emotion I had ever felt with you became burning reminders of something that was never and could never be real. How in a matter of seconds I went from being filled with rays of sunshine and happiness to drowning in an ocean of deep and dark depression.

What I love about the Milky Way and Andromeda's story is that the ending is not clear. Will they both be destroyed in their raging war of delicate emotion? Will they crash and burn to create something so divine the galaxies around them would become bland in comparison? In many ways, I don't know what is going to happen next with our love. Will I learn to hate you and hate her? Would you return to heal the wound you inflicted in my heart? Will you choose me, the one who understood you when you were misunderstood by everyone? Whatever the case is, I will continue to seek comfort in the stars, knowing that someday our love story will be reenacted by our very own galaxy.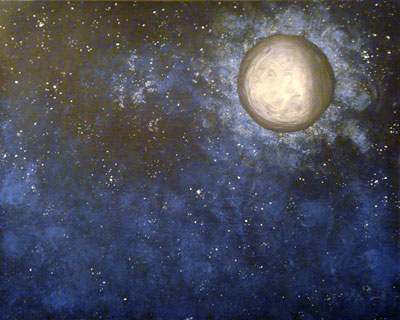 © Allison H., Vancouver, WA