Say No to Hunting Wolves
February 9, 2016
In Several articles such as, "Once Protected,Now Hunter","Some Reasons To Oppose Wolf Hunting In Michigan" and "Stop Shooting Wolves you Maniacs". The hunting of Wolves, is seen by most of the general public as being absolutely wrong and harmful to not only the species but also to the environment,bringing them ever closer to the edge of extinction.
In One of the articles, it says that wolves that live within a national park are protected by its borders.Except some Wolves cross this invisible border and are shot on site as they cross the border into another state, due to their hunting laws. In some states such as michigan and wyoming Wolf Hunting is legal.But there are some advocates that are against Wolf Hunting, that want the Wolves protected by federal laws once again.In Another article, some people hunt Wolves because they kill livestock, however Wolves only kill eleven head of cattle per year on average.Others hunt the Wolves because they kill deer in michigan's upper peninsula which is home to a qauter million deer, when wolves kill about 23,000 deer which is well under a quater million.And these same people want Wolf Hunting legalized, just so that they can hunt the elk, that the wolves naturaly hunt as there prey.. And these people are angry due to the Wolves killing the elk, making it harder for these people to hunt more of the elk.

Also in the articles it states that hunters kill twice more deer and elk combined that the wolves do in one hunting season, and we as humans kill about 10,000 deer a year with our cars alone.Wolf Hunting is not like deer hunting where i family can survive off the meat of a deer.But with Wolf Hunting we cannot use their meat and should not because every time we killo a living creature such as a wolf without adequate reason we are slowly but surely losing our humanity, and for what do we lose it for? more deer and elk at the cost of a species going extinct that has existed longer than mankind has.
The Wolves that roam these lands have existed for thousands of years, and have been seen as a sacred totem of strength and hope. And killing Wolves for the sake of one elk or deer, just so you can hunt to your hearts content asn as a competition, is just wrong and selfish especially when wolves have been hunting longer than man, and that they depend on the elk and deer as a food source. And by killing Wolves are not only bringing a species to the brink of extinction, but we are also harming the environment.

So in my own opinion which is clearly displayed throughout, I am strongly against the Hunting of Wolves and I believe Wolves should be protected by the government. Because once a species such as the Wolf is Extinct there is no bringing it back, and not only that but once the Wolves are gone it will have severe repercussions on the environment and the human race.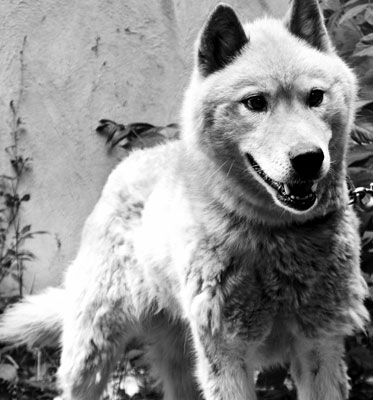 © Mike A., Newark, DE