It Goes Both Ways...
November 14, 2009
I searched the racks in vain. "9, 12, 6, 6, 8, 4, 7, 9, 6, 6, 2, Closer…9, 10, 1. Finally!" I grabbed my spoils and rushed to the changing room to try on the new pair of jeans I found. Dark and flare cut, they weren't the multicolored, skin tight skinny jeans popular at school, but they fit and made me appear taller. Happy, I almost skipped out of the changing room, until I overheard a conversation between two girls my age or a little older. They included some not nice words in their comments about those "[idiot] size 2 girls who were obviously [brain dead] and showed off their [bodies] to anyone who would look their way and didn't care that they were [airheads]." They looked over at me and gave me that "that means you" death glare that everyone has experienced at least once. Turning quickly, I instinctively wrapped my arms tightly around my chest and felt the prickle of tears in my eyes. My mom looked at me, worried, but I said nothing.

Later that night I sat on my bed swirling with thoughts and feelings about earlier that afternoon. I scribbled hastily in my journal a few thoughts. "Was I what those girls said I was?" I shook my head quickly. "They don't know me. I am not anything like what they were saying. I am strong, intelligent, and beautiful inside and that is what I want to show the world." Who was I kidding? The world saw what it expected, and what it expected was vicious, cruel and untrue.

I am 5'2'' and weigh 105 pounds, "just perfect" according to my doctor. I have untamable curly, long, chocolate brown hair that my friends would love to straighten (just to prove it can be done), olive skin tone, smiling dark brown eyes and ample curves that come from being Puerto Rican. I am not the typical measure of beauty for suburbia, Massachusetts, and never expect to be. I have no need, and had never wanted to be typical before that moment. Over the years I have heard many nasty comments about me, my body, and my ethnicity and have usually been able to shrug them off. "You are unique, special, intelligent and beautiful and nothing those people say about me will change that," I would tell myself, and I believed it. But over the years, my confidence wore down. I was the first of my friends to go through puberty, and like many early bloomers, became ashamed of my new curves. The words started to stick. Years of stupid boys sniggering and making suggestive comments will do that to you. So, I hid myself away, hiding beneath large sweatshirts and acting invisible so the boys couldn't say anything. Then, when the other girls caught up, they stared as well, but with envy, desiring the attention the boys were giving me. "You can have it!" I wanted to scream, "I don't want them to look at me that way! You can take it!" After that day at the store, I simply gave up. Guys were stupid and girls were vipers, wanting to strike at any "imperfection" they discovered to lift themselves up to seek attention from the stupid boys. A vicious cycle with me stuck in the middle. "I am intelligent, beautiful and unique and no one can change that." The words now had a sour taste in my mouth. "But no one else knows."

I am not a stereotypical girl. No one is. Although I am a size 2 right now, I don't dress promiscuously. No overly tight jeans, low v necks, no skintight and translucent shirts and skirts that leave little to the imagination. That may come as a shock to some people, but I don't go along with what the world thinks I should look like or dress like. I respect myself and my body more than that. Last year, I had my quinceanera, the coming of age ceremony for 15 year old girls in many Latin American cultures. My mom and I searched for a dress and found one perfect for me. Blue, with intricate beading, it was my perfect dress. My little cousin looked as if she had met a real life princess. Not a tower princess, waiting for some prince to come and save her, but one who could stand up for herself, be proud of herself and love herself just the way she is. I want to be that girl.

I believe that every girl is beautiful in her own way. I believe that every girl is special and can make a difference in the world. What's outside is not what matters; it's on the inside that counts. However, I have heard many girls say mean things to try to make themselves feel better. They become like the two girls at the store, hurting someone they had no right to say anything to. They say that they don't want to be small because when you do you look "anorexic" to cover up their own insecurities and jealousy. Sometimes they go farther than that. Words sting. No matter on what side of the scale you are on, no one deserves to be discriminated against, for being a size 0 or a size 12. Be comfortable with who you are, but be aware that you can't change, or have the right to change, anyone else. The hurt of stereotypes and careless words goes both ways.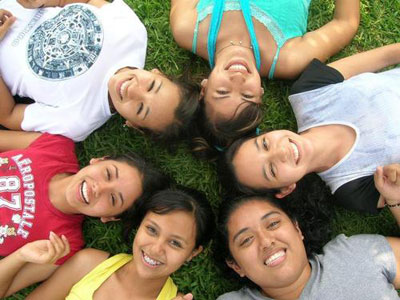 © Ana F., Guadalupe, Mexico