A new wave of Terrorism in the Israeli-Palestinian Conflict
April 4, 2009
How do you negotiate with a people that are bent on your annihilation? While the Israeli-Palestinian conflict over the Gaza area has been ongoing, Israel has confronted a new wave of terrorism, and their response has certainly been questionable. However, as the New Yorkers we are, we must take into account that other position, dare I say the conservative opinion, of the argument we are so quick to cast aside.


The Islamic Jihad is a radical militant group, currently operating in the Middle East. With a primary focus of eliminating the Zionist entity through a holy war, the Islamic Jihad has openly expressed their desire to destroy Israel in an effort to spread the establishment of an Islamic State. Making the terrorism history hall of fame, the group joined forces with the Hamas, escalating the attacks along the Gaza strip, and pumping in millions of dollars from Iranian support. And while of course not all Palestinian citizens are Hamas members, there is an undeniable presence of the terrorist group in this current battle over Gaza. It is not Israel's aim to attack the Palestinian people, but to eliminate the possibility of subjecting the nationhood of Israel to mass death and politicide aided by terrorist groups, such as the Hamas. As quoted from the Hamas charter, "There is no solution for the Palestinian question except through Jihad. Initiatives, proposals and international conferences are all a waste of time and vain endeavors."
While withdrawing all occupation seems to be the more optimistic, peace-seeking approach to the war over Gaza, even Obama, an avid supporter of diplomacy with Middle Eastern countries, has been uncharacteristically silent. Alaa al Aswany's op-ed piece in the New York Times, "Why the Muslim World Can't Hear Obama,", argues that "Even before he officially took office, we expected him to take a stand on Israel's war…But Mr. Obama has been silent." Obviously, as our new president, Obama has had to deal with the shambles with which our country has been left, but still, his reticence to speak on the issue, and his statement over the summer wherein he explained that he would do whatever it took to protect his children if rockets were coming into his backyard, indicates that the liberal "no war" position is not entirely clear, even to Obama—the man symbolic of peace. Yes, it is an atrocity that thirteen hundred people were killed, yes, we should always solve adversity and disagreements with peace and diplomacy; however, how does this peace get accomplished when, the rightful occupants of Gaza, are largely controlled by a powerful terrorist group who are hell-bent on the annihilation of the Israelis? Of course, we cannot grant overall pardon to the militaristic aggression of Israel, nor wash over the thirteen hundred casualties in Gaza; but, similarly, a blanket statement that Israel is just flat wrong is not the answer to a religious and political conflict that is centuries old.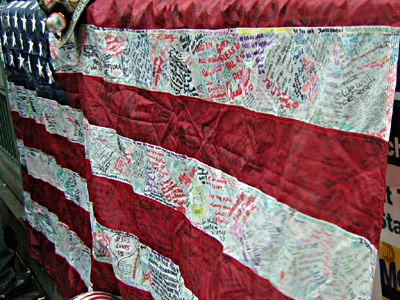 © Brittan S., Chino, CA