A Dying Breed
MAG
I attend a small suburban school that I find pretty boring. Mine was once an artsy town with cafés and bookstores but in the past ten years, a massive number of families from the city have moved into fancy new houses. They are usually young and the men have corporate jobs in the city while the women drive minivans full of Capri Sun to soccer games. They've turned it into Suburbia. I am revolted by all of this.

To escape this, I write, read, dance, paint, and play music. I love music and listen to it a lot. The other night I was watching MTV and was really sickened. The music was very lame. It was so commercial and masked the troubles of America. It creates an illusion and gives a horrible vibe to America. You wouldn't know that there's a war going on, that there's genocide and poverty in the world.

No one is writing lyrics to provoke the government or to invoke change like in my parents' generation. We are in need of revolutionary people ... this is a revolutionary time and the government is getting away with more crimes than we even know about because no one cares, and no one is speaking out. People mindlessly swallow the lies they are fed and even worse, musical artists are not putting out messages of love and peace, anti-war or anti-hate. Instead it's Fifty Cent's "Get Rich or Die Trying." Does anyone realize the irony of the 2005 Video of the Year being "American Idiot"?

There is something wrong with people who turn their heads when they see the headlines, who close newspapers when they see the photographs. What we see is not even close to what's really going on over there. Those soldiers are going to come home screwed up. This war is messed up and by the time people realize it, it will be too late. By then too many will have died, too many morals destroyed, too many spirits collapsed. We are a dying breed.

I can't take being a part of this culture, of this society. Nothing is happening; people don't care about the world around us and it is changing for the worse. My children, your grandchildren, may learn to love war and forget the actual meaning of life. The magic, the beauty of this world is diminishing. We are teaching hate. We are teaching violence. We are telling children it's okay to see bleeding people and not do anything. Where are we going? What are we supposed to do? Nod our heads and keep shopping? I sometimes wonder if I am the only one who sees things this way. I'm sick and tired of it and I am going to do something.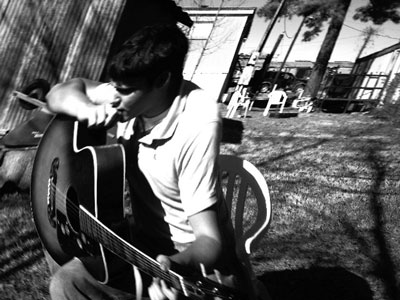 © Anonymous