We Are the Future
MAG
In alittle over five years many of you who are reading this willbe out in the workforce in hundreds of professions. We mustprepare to carry ourselves, our families and our country whenit is our time in the next millennium.

We will be thefuture doctors, dentists and school principals, and somedaymaybe even President of the United States. The old saying"There's no time like the present" is very fittingto the cause for which I write. There is no time like thepresent for teenagers like you and me to prepare for ourfuture. High-school alumni often refer to their high schooldays as "the best times of their lives." I fear thatthose of us still in school are trying harder to have fun andmake good memories than take our education seriously. I am notsaying that anyone should become totally unsociable, but weshould take an increased interest in our education.

A very good way to enjoy your teen years - as well as keepyour education and future as a top priority - is toparticipate in extracurricular activities. Usuallyschool-sponsored, these leaders are concerned with youreducation. In addition to being supportive of your studies,these actvities are always fun and usually present achallenge, whether debate, football, or choir while makinghigh school the "best time of yourlife."

Extracurricular activities can make highschool fun. The most important thing during high school is towork hard and get into college - prepare yourself to get a joband prepare for the future.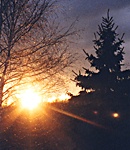 © Anonymous