Memorial Day
MAG
Memorial Day is not just athree-day weekend, though for many teenagers, it's just a day off from school.Until recently, teens have not experienced the treachery of war. We did not fullyunderstand how much our nation's soldiers sacrifice, or give them the respectthey deserve. Memorial Day should be a day for us to appreciate our veterans andpay our respects to those who died fighting for our nation'sfreedom.

Memorial Day was originally known as Decoration Day because itwas a time to honor the Civil War dead by decorating their graves. The firstDecoration Day was celebrated May 30, 1868. During the celebration, Gen. JamesGarfield made a speech at Arlington National Cemetery in front of 5,000participants who had come to help decorate the graves of the more than 20,000Union and Confederate soldiers.

In 1966, the Federal Government, underPresident Lyndon Johnson, declared Waterloo, New York the official birthplace ofMemorial Day. It was selected because it was the very first town to celebrate itin 1866, two years before the Arlington gathering. Since 1866, Waterloo hascelebrated this annual holiday for which businesses close and residents decoratethe graves of soldiers with flowers and flags. Other communities started tocelebrate Memorial Day, and after World War I, Americans started to honor thosewho had died in all of America's wars. And so, in 1971, Congress declaredMemorial Day a national holiday to be celebrated the last Monday in May.

Ithink schools today do not educate students enough about Memorial Day. How can wehonor our soldiers if we don't know or understand how Memorial Day originated? Itis very important for us to learn about and understand the importance of MemorialDay and properly pay our respects to our veterans, living and dead. Teenagers areAmerica's future, and this tradition must be passed down to generations to come.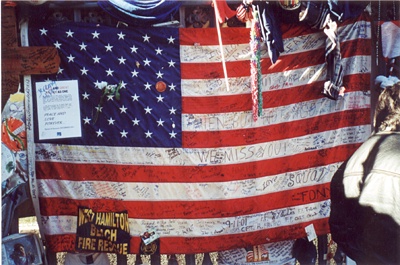 © Anonymous