Intolerant Christians
MAG
The average person who reads this article will probably decide that I am an intolerant and insensitive cockroach, and so to that person, I offer these kind words of advice: Deal with it. As an American Christian, I'm sick and tired of repeatedly being told that I must appreciate everything but the values I hold dear because to do otherwise would make me intolerant. By tolerant, society means that I'm not only supposed to accept the beliefs of others, but also supposed to put them above my own. This is not what the word "tolerate" means.

The dictionary defines tolerance as "a sympathy or indulgence for beliefs or practices differing from or conflicting with one's own," not "the acceptance and personal belief in the practices of others." So technically I'm a rather tolerant individual, but by today's standards, I'm politically incorrect. I'm racist and a hateful, miserable excuse for a human being and I'd do more good as a sheet of pond scum, et cetera. If you're an evangelical Christian, then you know the drill and are empathizing with me.

Let me begin with the subject of Christmas. Why is it that public nativity scenes are so berated? If a student were to give out Christmas cards picturing the baby Jesus, rest assured complaints would arise. Who cares that Christmas is the most widely celebrated December holiday in the United States? We have to silence our beliefs in order to make people of other religions (or lack thereof) happy.

If I draw a Christmas tree on the school chalkboard, I must either erase it or draw something to symbolize each of the other religious beliefs. Yet, if someone draws the Star of David, that's how it stays - alone. I have observed this. It's a small-scale representation of a larger problem.

Then there's the uproar over the Ten Commandments monument. Most of you have probably heard the story of its elimination from the Alabama Supreme Court building, where Justice Roy Moore was forced to remove a large stone tablet engraved with the Commandments because it was seen as a "government endorsement of religion." Allow me to share a brief history lesson: This country was founded on Christian principles. The Ten Commandments are part of that Christian belief, but they don't even specifically advertise one religion over another, and if you're an atheist, well, tough. If you lose respect for the way in which your country was born, then your respect for your country will wane as well. This is not a good thing for America.

So, bottom line: stop treating Christians like we're offensive. Or, instead of whining, feel free to exercise your right to leave, because frankly, I find it offensive that you want to kick my Father out of society.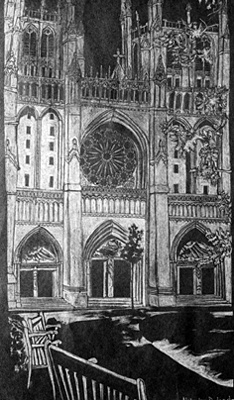 © Anonymous