This Is Not a Goodbye, Nur Ein Bis Später
June 8, 2016
In the summer of 2015, I ventured away from home for a month and stepped foot in Europe for the very first time.  I, along with other students learning German in my school, participated in the German American Partnership Program (GAPP)—an exchange program—and travelled to Germany for three weeks.  The itinerary consisted of two weeks in Osnabrück, a city located in northwestern Germany and full of historical charm since medieval times, with excursions to Berlin, Cologne, and Bonn.  While I did have the opportunity to tour museums and landmarks like any other tourist, I experienced authentic daily German life while living in my German exchange partner's home in Osnabrück.
Here's a quick rundown of how things went.  After twenty-four hours of sleep deprivation, we hopped off the plane at Düsseldorf and took a train to Osnabrück where a sea of German host families awaited us.  I was incredibly anxious and excited to meet my partner, Debora.  Once I greeted my partner and her parents, I was headed to my host family's quaint, suburban home.  The rest of the two weeks spent in Osnabrück consisted of shadowing our German partners in school, biking—as the transportation tool to almost everywhere (which was a lot of fun for me, but maybe not so much for others)—watching "Jurassic World" and other movies "auf Deutsch," going in and out of the city, playing laser-tag on one occasion, and water-skiing on another.  We also got to try new and authentic German foods as well as Turkish foods—which are extremely popular there—such as Döner, a kebab-meat sandwich.
During my time with my host family, I experienced firsthand German school life.  Unlike our high school, Ernst-Moritz-Arndt Gymnasium has grades five through twelve, so it's common to see tiny fifth-graders running around the halls.  While numerous classes are taught by various teachers, students do not move around to different classrooms as often as we do.  Additionally, each class is forty-five minutes long, and throughout the school day, students get multiple breaks.  During Tuesdays and Thursdays, when there are lunch breaks, many students choose to eat outside of campus, while on other days, school ends early enough for students to eat lunch at home.
After visiting Osnabrück, we spent three days in Berlin, the capital of Germany, while staying in a youth hostel.  We visited the Brandenburg Gate, which is a world-famous German landmark and was built as a symbol of peace by King Frederick William II of Prussia; the East Side Gallery, which is a 1.3 km stretch of the remaining Berlin Wall with art drawn all over; and the DDR Museum, which detailed life in East Berlin during the Cold War.  In Bonn, a city in West Germany where we spent a day, we toured Haus der Geschichte, which my German teacher explained to be the museum to visit in Germany; shopped in the "Haribo" store, which sells gummy bears (much to the delight of us, students); and saw Drachenfels, which are the castle ruins that sit atop a hill and offer a fantastic view of the Rhein river.  In Cologne, we stopped by the Chocolate Museum, which features the history of chocolate and was my favorite museum since it also distributed delicious samples, as well as the Cologne Cathedral, which is the largest Gothic church in Northern Europe and contains the Shrine of the Three Kings.
My favorite experience in Germany was when we visited the Jewish Museum in Berlin. One exhibition was the pomegranate wishing tree which allowed visitors to write their wishes on a paper pomegranate and hang it on a tree. My friends and I had a fun time climbing up and down the winding staircase that leads to the top of the tree and hanging our pomegranate wishes up. In addition, I have many crazy and, reflecting back, hysterical stories from my time in Germany--from my friend almost getting hit by a bus in Berlin to my friends and I plotting to go to a teenage night club--I can certainly say that the trip was nothing short of an immersive experience filled with good times.
When Debora flew to the US in October, I was ecstatic to show her the American way of life just as she had shared with me her German culture and heritage. On weekdays, she followed me to classes in school and accompanied me to my extracurricular activities. On the weekends, we shopped at a local mall, visited Princeton's main campus, and watched "Jeopardy!." Three weeks passed much too fast. Soon, I was saying goodbye to Debora and all my new German friends at the airport. There, watching the German exchange students walk through security and eventually disappear from sight, I realized that while our time together may have been short, the memories Debora and I made together will last a lifetime. To Debora: this is not a goodbye, nur ein bis später.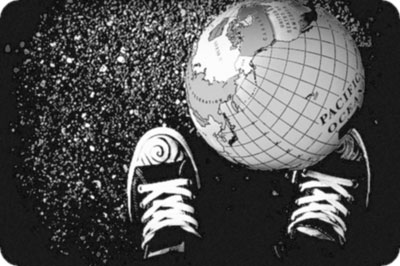 © Kailey E., Crownsville, MD