Days of the Dead
MAG
Just having passed Halloween, I wondered about its meaning in different cultures. El Día de los Muertos, a holiday celebrated in Spanish-speaking countries, is full of meaning. It is a three-day ­celebration to honor the dead. Did Halloween ever have such a purpose?

Although the meaning may be hidden, both holidays do have a rich history. Halloween was created by the Celts, who celebrated Samhain, a day when the ghosts of the dead are thought to return to earth. This time of year marked the end of summer, the ­harvest, and the beginning of the cold, dark winter, which they associated with death. On October 31, they believed the boundary between the living and the dead was blurred, space and time were ­suspended, and the spirit and living world could come ­together.

On that day the Celts believed disembodied spirits from the past year would return looking for living bodies to possess for the coming year – their only hope for an afterlife. The living would extinguish their fires to make their homes seem cold and undesirable. The villagers would dress in ghoulish costumes and parade around town making noise and being destructive in the hopes of frightening away spirits looking for bodies.

However, in some places, people do not wish to scare the dead away. El Día de los Muertos means the Day of the Dead, and is celebrated mainly in Mexico and Latin America. El Día de los Muertos is not a sad time but rather one to remember and rejoice, emphasizing death as part of the cycle of life.

El Día de los Muertos started when the Catholic feast of All Souls' Day merged with Aztec rituals of death. Catholic religious practices include All Saints' Day on November 1 and All Souls' Day, November 2. Celebrations honoring loved ones who have died can be traced back to ancient Egyptian times. Unlike Halloween, this holiday has retained the meaning of traditions.

While most Halloween activities ­occur in the evening, el Día de los Muertos lasts for three days. On October 31, anticipating their honored guests, families clean and decorate a loved one's gravesite by pulling weeds, making repairs, painting, sweeping, and scrubbing the gravestone. Items familiar to the returning soul are placed there with flowers, wreaths, and paper streamers. Offerings may include mari­golds, candles, toys, religious pictures, personal mementos, incense, food, and water. If nothing is offered, spirits are ­believed to leave weeping.

Altars in the home are decorated with candy, flowers, photographs, favorite foods and drinks, water, and a picture of the deceased. Candles and incense help the soul find its way home. In the evening, families visit the grave bringing flowers, candles, blankets, picnic baskets, guitars, or radios. They will spend the whole night there in the cemetery. Childrens' spirits are expected to arrive just ­before dawn on the first of November, but only for a few hours. On ­November 2, at morning Mass, family members and friends mark the departure of spirits by blowing out and removing candles from the altars. On ­November 4, the decorations and altars are taken down. In contrast to Halloween, el Día de los Muertos involves love, care, and time.

Another major difference between the two holidays is who is involved. Halloween, for the most part, is for children – who dress up, collect candy, and have parties – with adults supervising and handing out treats. El Día de los Muertos, on the other hand, is a family holiday for the living and the dead. The altar is constructed by the whole family and everyone goes to church and spends the night in the cemetery. Even in death, all are involved.

El Día de los Muertos is still a major holiday in many countries and holds as much meaning as when it was first celebrated. Halloween did have a historical significance, but today, most people have gotten so caught up in what it has become that few realize its history.

***

This article is the winner of the Teen Ink Halloween Contest. Join our Facebook group for the chance to enter other contests!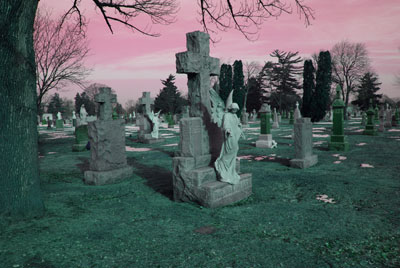 © Lauren M., Avondale, AZ